French actors strive for perfection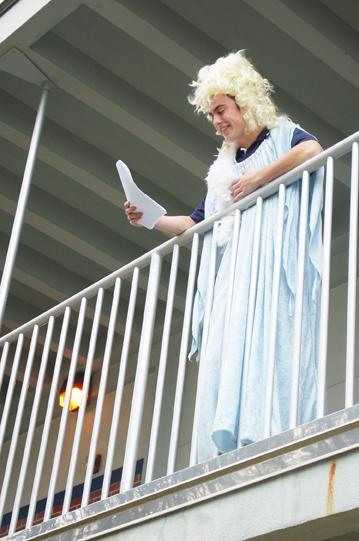 French teacher Jennifer Walker holds a three-hour practice every Saturday in addition to Friday practice sessions in order to help her students perfect the French III play for Congres, a French competition that will take place in Orlando from March 12 to 14.
"We got a Superior — which is first place — in our French III play last year," Walker said. "The play has to be perfect since there are lots of competitions there, but few of the members are having a challenge to make it to the practices."
The French III play is called "Les Precieuses Ridicules" written by Moliere, who wrote about and made fun of the arrogant, outrageous nobles in the 16th century.
"I made Jett [Morgan] a pink suit with green ruffles," Walker said. "I think it looks fantastic on him, and it takes a lot to dress up like that."
Morgan, however, said he has no problem wearing the suit.
"I'm a pretty high-fashion person, so the pink suit is nothing at all," the sophomore said. "Maybe I'll wear it to Homecoming or Prom next year."
Aside from French III's play, the French I's play has been receiving superiors for 15 years straight. The Brain Bowl team also hopes to successfully defend its state title.
By Trung Van