Looking for likes
Social media content creators seek to broaden their audiences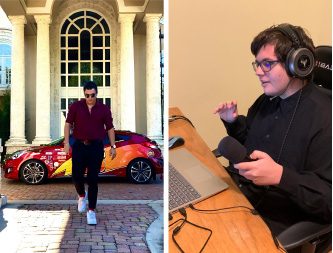 Students are dipping their toes into the pool of content creation, using video sharing sites such as YouTube and TikTok, and live streaming platforms including Twitch to share their imaginations.
Senior Ben Nielsen, whose YouTube username is "T0welCandy," started creating video content in 2014.
"I found this free recording software and it had a really big watermark in the corner, but I just sat down and started recording," Nielsen said. "I didn't really have any viewers or anything. I just did it because I thought it was fun."
Nielsen's inspiration came from fellow YouTubers, including CaptainSparklez, best known for his Minecraft content, whom Nielsen met at a gaming convention in 2013.
"He was one of several [inspirations]," Nielsen said. "I watched a lot of 'Minecraft' videos."
These days, Nielsen said his target audience is teenagers and young adults. His content features games such as "Skyrim," "Red Dead Redemption 2" and "Stardew Valley." The game he plays most is "Minecraft," and one of his most popular gaming videos is a tour of his "Minecraft" server, with 277 views.
"I'm definitely starting out, but a lot of people say that the biggest milestone on YouTube is 100 subscribers," Nielsen said. "I've had some success."
Nielsen has 142 subscribers and averages about 20 to 30 views per video. He said he doesn't expect his videos to gain a lot of traction because he's relatively new at producing content.
"If I spend weeks editing [a video] it's kind of annoying when I look and there's two likes and one dislike," Nielsen said. "I get discouraged, but not to the point where I stop making videos."
To combat discouragement, Nielsen said he shares videos with his friends to gain viewers and has amassed more than 100,000 views for a video about internet personality Jake Paul.
"A lot of it is luck-based," Nielsen said. "It's a mix between how consistently you upload, and luck basically."
Nielsen said his online personality differs from his offline one.
"I'm usually more reserved when I talk to people outside of the internet," Nielsen said. "I don't know how to describe it, I don't know why I feel more comfortable [online]."
He said he originally wanted a career in political science but changed his mind after joining WCTZ News, the school's TV production program and has incorporated his YouTube channel into college applications to showcase his editing experience.
"[Joining WCTZ News] has a lot to do with my YouTube channel, actually," Nielsen said. "I learned how to edit and produce videos. I've been producing videos for six years. My YouTube channel is a big reason why I went into TV production."
Another senior, who requested he be referred to by his online name, "WaxMan," said he started creating content on YouTube in 2015, making vlogs about his life, before transitioning to gaming. WaxMan uses Twitch to stream himself twice a week, playing video games with friends.
"It's pretty enjoyable to have a group you can play with, because without having that group of people there, it's kind of difficult for me to stream consistently," WaxMan said.
Video games featured on his channels include "Fall Guys: Ultimate Knockout," "Counter Strike: Global Offensive" and "Among Us." WaxMan said he incorporates "dark or edgy" humor into his streams while he plays.
"A game like 'Among Us' is really good for streaming because you can have a lot of funny moments that could constitute an entire video if you play long enough," WaxMan said.
WaxMan said he draws inspiration from an online group of Australian YouTubers called the "Misfits." WaxMan said he'd like to attain their level of popularity at some point, and eventually stream with similar creators.
"I would like to get to that point," WaxMan said, "playing with people who I've been watching on YouTube for a while, people who have gotten me into [streaming]. Seeing people succeed, seeing people that come from nothing rise to high status, that's pretty cool."
WaxMan said he is no stranger to discouragement.
"For that 16-hour stream, I may have had [one] person [watching]. That's kind of a bummer when you're streaming for that long and no one shows up," WaxMan said. "Other times you stream and then a bunch of people show up. I guess that's what keeps me going, having people show up every once and awhile."
He said he has plans to earn a bachelor's degree, focus on a job and stream on the side.
"The ability to sustain myself with just my content creation, that is the ultimate goal," WaxMan said. "That is what you really want: to have your thing on the side you've always been doing as your main job."
Senior Andrew Catti also has found success creating content, gaining more than 108,400 followers on TikTok. As a result, he said he has been recognized in public.
"It still freaks me out," Catti said.
On Catti's first day working at Bizzaro's Pizza on Wickham Road, 12-year-old Marchello recognized his car.
"He comes running up to the bar, shows me my TikTok [profile], and says, 'I follow you, man!''' Catti said. "Then he orders, sits there for a half an hour just talking to me. My managers thought it was the coolest thing."
Catti said if he sees a video on TikTok and laughs at it, he'll make a similar video. He said he doesn't plan to make TikTok his full-time career.
"I've made money on TikTok, not a lot," he said. "[People say] 'you should quit your job and pursue TikTok.' It doesn't work like that."
According to Catti, the uncertainty of internet trends makes it difficult to predict what his future with TikTok will be like.
"I honestly couldn't tell you," Catti said. "What I would want is to have a million followers, that's been my goal. [But] social media in general is such a teeter-totter kind of thing."
Catti said he began creating content on YouTube after his grandmother bought him a computer when he was 7 and he instantly became addicted.
"Back in second grade, if you did anything, everybody would give you grace," Catti said. "Everyone would say 'that's a great thing, that's a great dance.' I thought if I posted my 30-minute video of me dancing to 'Party Rock Anthem,' people would be happy somewhere, because my Nana was. People are laughing, and I love the laughter. People are smiling, and that's all this world needs. Laughter is the best medicine, and I stand by that."
About the Contributor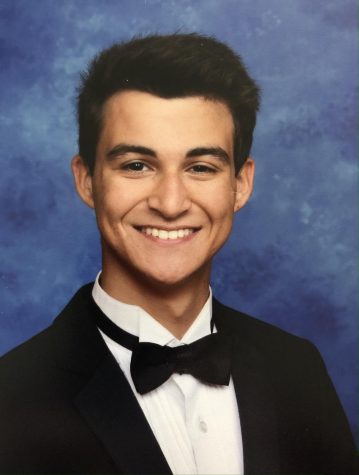 Sami Ramadan, Graphic Design Editor
This is my second year writing for the Roar. I am a senior with 5+ years of Digital/Graphic Design experience and this is my first year as Graphic...