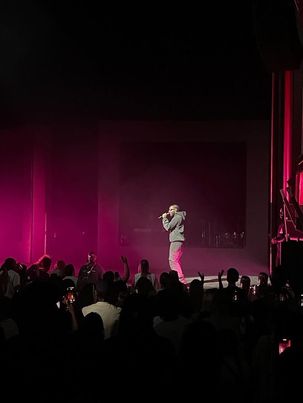 After a little over a year of Brent Faiyaz's "Wasteland" album, he announced the drop of a surprise album "Larger Than Life" one day prior to its release on Oct. 27. A shock for fans, this album features prominent artists, such as A$AP Rocky and Coco Jones. With 36 minutes and 20 seconds of pure bliss, his lyrics detail love, heartbreak and relationships with poignant complexity. Faiyaz devotedly chronicles relationship highs, lows and everything in between. But his raw, vivid verses avoid tropes as he digs deeper into nuance, keeping listeners captivated. By turns he's hopelessly romantic, wounded from betrayal and cautiously optimistic again.
Starting off with "Tim's Intro," Faiyaz sets a woozy romantic scene as classical instruments seamlessly transition into Faiyaz's soft voice while he tenderly croons, assuring lovers they're priority one, his calendar cleared. It's a sweet serenade, if somewhat repetitive — Faiyaz lingers lyrically on always making time. Still, the track ushers in signature Brent — buttery vocals floating over soundscapes.
The upbeat third track, "Forever Yours," showcases Faiyaz pledging devotion, with lyrics professing "You have my word, I'm forever yours."  Faiyaz explores staying loyal to a lover despite temptation from other women who "got everything I want." He concludes that no matter how alluring alternatives may be, they can't measure up to the connection with his current partner. Faiyaz leans into earnest romance using the bouncy rhythm to drive home his commitment and willingness to remain faithful. Lines like this reveal his romantic and earnest intentions toward the subject of his affection.
Track number eight, "Wherever I go," opens up with the somber sound of rain falling, then smoothly transitions into an incredibly hypnotizing beat. In this song, Faiyaz speculates over doomed relationships, showing remorse over actions taken with a previous lover and imagining different timelines where he was loyal and happy. It's less flashy Faiyaz and more thoughtful, hinting at personal change. "Wherever I Go" shows Faiyaz seriously thinking about meaning in failed bonds, hinting at depth.
Faiyaz saves the best for last with the closing track, "Pistachios." The song starts off slowly, lulling listeners into a relaxed state before Faiyaz's infectious vocals kick in. His voice glides over the beat effortlessly, showcasing the raw talent. The title of this song perfectly encapsulates the message of the song. Titling this song "Pistachios" serves as the perfect analogy to cracking his opponents for the top spot as a R&B singer, just as one would crack open the shells of pistachios. "Pistachios" leaves no doubt that Faiyaz has solidified himself as a leading voice in R&B's future.
As an avid fan of Brent Faiyaz, this album is different when compared to his past albums, which would often display characteristics of betraying multiple lovers. Longtime fans may notice the switch from being a player to regretful and slightly more caring of his love life on recent albums. Where once Faiyaz carelessly mistreated many lovers, here he closely examines each failed intimacy. The switch suggests noticeable maturity, fitting for an artist on the verge of fame.
For me, Faiyaz's latest album provides the ideal vibe for tuning out and relaxing, whether I'm plowing through homework or winding down on my evening drive from work. Though Faiyaz may not be a household name yet, his music is a real treasure for R&B fans open to discovering new artists. I first discovered Brent Faiyaz during the 2020 lockdowns, and it was one of the best accidental mistakes I've made. For anyone yet to dip their toes into Faiyaz's music, I couldn't recommend it more highly. When I get the chance to sneak in listening time, I know I can count on Faiyaz to deliver those atmospheric tunes that never fail to enhance my day. However you spend your time, do yourself a favor and queue up this album when you're looking to kick back and float away with some great music.