Gardeners' labor of love lifts Lair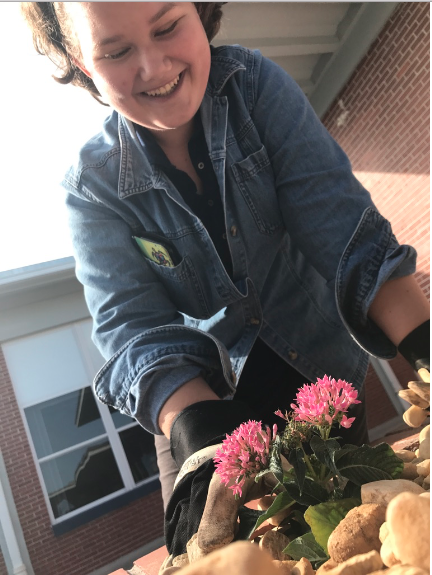 The Lair was treated to a makeover last weekend. Laura Richardson, who is in her second year of teaching virtual lab, led a gardening project with students Julia Travis, Shannon Hogan and Lauren Novak to beautify the school's commons area. The project involved digging up dirt from the patio's brick planters, adding new potting soil to the ground, planting flowers and finishing the area off with stone pebbles.
"The Lair needed the flowers," Richardson said. "[Gardening] is something that I love to do and when the senior classes made the donations to get the statue, the job needed to be completed. [The area] needed to be cleaned so that it can live up to the awesome statue that the seniors left behind. You don't build a house and not finish off the garden."
The flowers surround Whitworth the Wildcat, which stands tall as the new beacon school pride. The statue was donated in September by the West Shore classes of 2015 and 2016, whom of which were led by the guidance of 2016 Senior Class Sponsor Jill Whitacre. It commemorates the legacy of Jason Whitworth, who served as a driver's ed teacher and cross- country coach before succumbing to Amyotrophic Lateral Sclerosis last summer.
"I never got to have him as a coach, but I have heard that Mr. Whitworth was an amazing man," freshman Julia Travis said. "I hope that the flowers can reflect his inner beauty, and that the wildcat can be around for a long time. God bless Mr. Whitworth. He is in our hearts."
Parent Jill Hogan also helped with the gardening project.
"I think the gardening was well organized by Ms. Laura," Hogan said. "The volunteers were very happy to help and enthusiastic to learn. I think the flowers will add beauty to the campus. Studies have been done showing that being out in nature and around plants and trees is a tremendous health benefit to everyone. It has a calming and stress-relieving effect. I think the gardening also shows how caring and dedicated West Shore teachers like Ms. Laura Richardson are to the students of the school."
By Lauren Novak