'Silk Sonic' summons sweet sounds of the 70s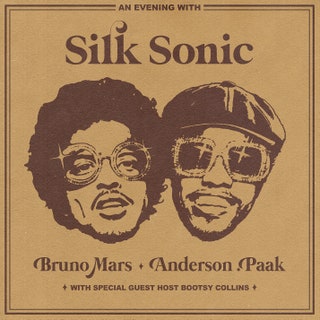 "An Evening with Silk Sonic," the newest record from Bruno Mars and Anderson .Paak, is heavily influenced by the R&B and soul music of the 70s and is mostly live instrumentation, which caught freshman Aiden Dabbs by surprise. 
"I think it's fresh for an artist to make a record that's so different from what is happening right now in the mainstream," he said. "It's not just sampled from other artists. It's creative. It reminds me of the 70s, but it has a level of production that really intensifies the sound of the past and future." 
Even the the video for "Leave the Door Open" is shot in a Motown carpet studio with band members playing all their own instruments. 
"I love the music video," eighth-grader Jude R. said. "It felt like it was straight from the 70s. Honestly, that might have been the best video of the year." 
The singles have collectively garnered more than a billion views across all music platforms, and the album — released on Nov. 12 by Aftermath — debuted at No. 2 on the Billboard charts. In addition, seven of the album's nine tracks are currently on the Billboard Hot 100 singles charts.
"I'm really happy about how the album is doing commercially," Jude said. "It is really interesting to see real music being valued in the mainstream." 
By Mateo Martens 
Editor's note: Brevard Public Schools policy prohibits the inclusion of middle-schoolers' last names on district-sponsored websites.