Fellowship of Christian Athletes embraces changes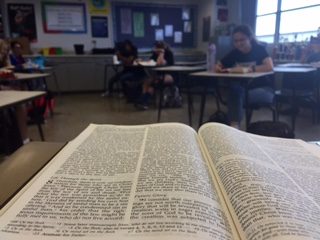 As the new year kicks into full swing, Fellowship of Christian Athletes is changing the entire image of their club. With a new title, an increase in advertising and the addition of leadership roles, the organization has viewed the goal of attracting new members from the campus as a top priority.
In an attempt to maintain its national recognition, leaders have changed the name of the club from "Fellowship of Christian Students" back to "Fellowship of Christian Athletes." They have also introduced new leadership roles this year, such as co-president and prayer coordinator. FCA posters and cards have also been posted around the school on walls and in teachers' classrooms. 
"I think these changes have been good in attracting new visitors while not changing what we are about," said junior Garrett Jerdon, who has been an FCA member for two years. "We see new faces all the time, but most importantly, there are more and more kids hearing the good news and allowing it to impact their lives."
Sophomore Kyle Caudill explained how Fellowship of Christian Athletes has impacted his life since the club began reaching out to new members.
"I have only been a member of FCA since the beginning of this school year," Caudill said. "It has put God on my mind more during the school day and helped me to be a better person overall. Believe it or not, FCA has also improved my grades. Now I am able to persevere through the stress of school because of this hope that I have found."
Fellowship of Christian Athletes meets and eats lunch together every Friday in Room 4-203 during Power Hour A and B. All students are encouraged to come out for a time of praise, prayer and fellowship.
By Lauren Novak