Carpenter creates 'Singular' sensation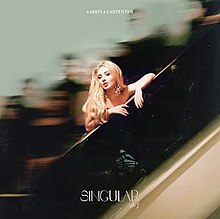 Sabrina Carpenter is an actress, singer and songwriter whose career began at the age of 12. Now 19, she recently released a third studio album, "Singular: Act 1," her most personal album yet.
"You can sense more emotion in the way that she sings and in the lyrics," junior James Wood said.
Although she has the potential for stardom, some question how successful she will be. Especially when compared to other former childhood Disney stars.
"I don't think she has met the extent [of success] that Miley Cyrus and Selena Gomez have gotten," said junior Madison Konicki.
Nonetheless, Carpenter is showing her own personal sense of evolution within her musical career.
"'Singular: Act 1' has more of a modern pop-y vibe [and] is more about self-confidence," junior Zanielle Wells said.
Wood said Carpenter's maturation in her music is proof of the positive transition she's making from Disney star to pop sensation.
"You can tell that she is starting to create her own style and move out of the Disney shell," he said. "It all just sounds less fabricated."
By Victoria Skaggs