Timberlake's latest album gives "20/20" vision to pop music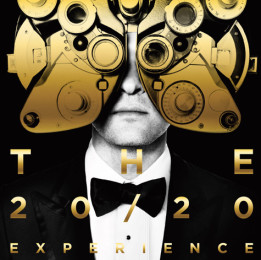 Justin's back! After his seven-year "vacation" from the music industry, Timberlake finally reclaimed his place as the god of pop with his new album "The 20/20 Experience," released last March. The "20/20 Experience" was just the ice-breaker, opening the pathway for the real jewel, the "20/20 Experience 2 of 2." Justin Timberlake's first album that has two separate parts, "The 20/20 Experience" was a rare find in the pop world of 2013. Other artists during this era feel as if they need to overcompensate for their poor voices by adding dubstep beats or yelling in the microphone to get our attention. This album reflects Timberlake's older style of music: the very rhythmic and blues-inspired singing. "The 20/20 Experience 2 of 2" lasts for 70 minutes and was created during the same session as "The 20/20 Experience."
The opening song, "Gimmie What I Don't Know (I Want)," is full of harmonic gold. The song kicks off with a revival of Steve Miller Band's "Fly Like An Eagle," with an synthesizer vocal intro. The lyrics fit like a puzzle; they're flawlessly intertwined with the beat of the song.
"True Blood" is the second song on the album, and the melody of this song has a Bollywood vibe to it. The heavy bongo beats flow in this song, mixing in with synthesizers to give it a playful yet seductive tone. Timbaland and Timberlake teamed up to create this upbeat and catchy song.
"Cabaret," featuring Drake, is the third song on this album and probably the most provocative. Timberlake is blatantly singing about an adult entertainment club, describing people drinking alcohol and doing various types of drugs. This song is my least favorite, as you can guess by my feelings towards the lyrics. Even the melody of the song doesn't have any substance; it is awkward and doesn't flow well with the lyrics at all
"TKO," featuring Timbaland, is the fourth song on this album and is the song that best recaptures Timberlake's signature sound. This song has a rhythm and blues feel; the lyrics follow the beat and melody of the song exactly. The song is describing a knockout in a boxing ring with this girl and this boy: how they fight and go round and round with their arguments.
"Take Back The Night" is the fifth song on this album, and it is, no doubt, the most popular song of this album. Every time you turn on a radio, you hear this song blasting through your speakers; even stores you walk into are playing this song. Even though this song pops up on every machine known to mankind, this is still a really excellent song. This song sounds similar to "Suit and Tie" on the part one album of Justin Timberlake's "The 20/20 Experience." The tempo of this song is very catchy, and the lyrics remind me of friends going out on town to have fun.
"Murder" featuring Jay-Z is the sixth song on this album and it is my absolute favorite. Timberlake's voice is smooth as ice, flowing like a river of rhythmic bliss. Even Jay-Z's rap-like solo is perfect, and I don't even enjoy rap. This song is the pinnacle of this album, you will find nothing but joy dripping from this "killer" song.
Overall, I loved this album. I've always been a Justin Timberlake fan, and this album did nothing but increase my admiration towards him. Timberlake made a risky move, tempting to create more sluggish and monotonous style of songs rather than his usual pop form, but this direction proved to be a huge accomplishment in his musical career. In this album, Timberlake's voice reminded me of a modern-day Frank Sinatra. Timberlake has a few tricks up his sleeve, and with his fearless motivation to create a new sound, there's not a question in my mind that he'll impress me in the future as he does now.
Leave a Comment