Four introduces fans to edgy, new style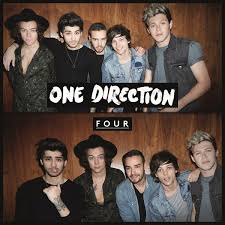 British boyband One Direction have released their fourth studio album, appropriately entitled 'Four'. The album's edgy sound was not something listeners were expecting from the previously clean-cut, manufactured group. Collaborators in this unique record include The 1975 and McFly members Tom Fletcher, Danny Jones, and Dougie Poynter. Even rock band Kodaline helped write a song.
The album's debut single "Steal My Girl" opens with a grand intro, much like the band's previous album's single "Best Song Ever." The dramatic intro goes along with Four's dramatic difference from One Direction's previous sounds. The band's new record has managed to dominate the iTunes charts in 67 countries, and evidently Orlando, Florida with a free concert in Universal's City Walk where the band performed four of their famous singles the day the album came out. The performance, which was streamed live on the Today Show, had a huge turnout of over 2,000 fans, demonstrating the boys' large and dedicated fan base.
The songs on the album are less pop-sounding, and can easily be compared to the music style of Bruce Springsteen. The group has been praised for confronting their limitations and finally achieving the sound they've been striving for, due to the active participation each member had in writing the songs. Many of the tracks, along with "Where Do Broken Hearts Go" and "Girl Almighty," have more of an unexpected sophisticated sound. The new album contains exclusive bonus tracks including "Act My Age," which contains a striking intro that would best expect to be heard in an Irish pub.  Another song, "Change Your Ticket," has an uplifting tune, exactly like the one heard in The 1975's single "Chocolate".
The record as a whole is upbeat and effervescent. In contrast to critic's claims that the group has taken a step backwards, this new album is a huge milestone demonstrating the group's growing musical maturity.
Released just in time for the gift-giving season, it is the perfect record to be played on any joyful occasion.