Girls' lacrosse "wins" against Holy Trinity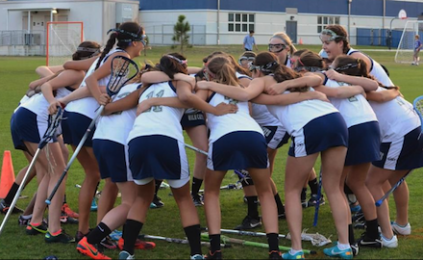 Despite a 19-2 final score, and more than three goals each from sophomore Kaitlin Inganna and junior Christine Sherry, the 19-1 thrashing of the Holy Trinity Tigers will not be officially counted as a victory for the Lady Wildcats lacrosse team. Due to the absence of referees, FHSAA rules state that the game can not be recorded as an official victory for the Lady Wildcats, so their record remains 5-0.
"It was good experience for us to be able to handle rough play," junior Lindsay Gorham, who scored once, said. "I wish it had counted, but it will be valuable practice to prepare for [Merritt Island] on Thursday."
As has been the case for the Lady Wildcats all year, younger players got a great opportunity to experience the speed and intensity of varsity play when the game got out of hand.
"It's good for younger players and middle schoolers to get experience playing against opponents that are their own age and skill level," junior attackman Sierra Purden said. "It's better live game action for them, it'll help them improve."
The Lady Wildcats aim to continue their potent run on Thursday when they visit the Merritt Island Lady Mustangs, who recently suffered their first loss of the season to the Satellite Scorpions Tuesday night.
First draw is at 6 p.m.