Drama plays key role in senior's life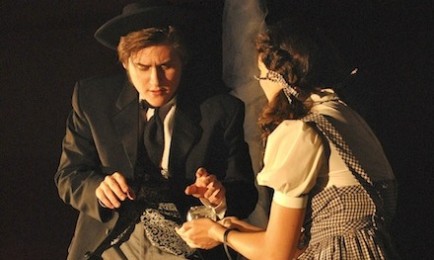 A couple nights into the high school State One Act Festival last year, Joe Held and a few of his fellow actors were far from resting up for the next day. Instead, the four students were rolling each other up in blankets and crawling around the hotel room like inch worms and slithering snakes, playing a game called "Night Crawlers." After an hour, the door creaked open and some girls from their troupe walked in, giving boys weird looks when they saw them tied up in sheets. Then, just as quickly as they had come, they left the room … to get their own blankets and join the game.
"Then I remember playing 'Night Crawlers' all around the hotel," the senior said.
When the quirky senior isn't playing crazy creepy, crawler games with the troupe, Held is often on stage.
"He loves theater," his sister Anna, a freshman, said.
"It's a lot of fun, a great way to express yourself, and very involved," he said about what he's most passionate about.
Held has been involved in not only most of the West Shore productions since "Anything Goes," but also in the Summer Fine Arts programs including "Singing in the Rain" and "Thoroughly Modern Millie." This summer he plands to take part in Summer Fine Arts's production of "Anything Goes."
His favorite show was his first performance of "Anything Goes" at West Shore, because he has an emotional attachment to it.
"It was just kind of the first time I got that adrenaline high, you know, from performing," he said. "I mean, I'd done other plays before, but that was the first time I really got the rush."
It was also when he started to make friends in Troupe 6034, friends he says he'll keep in touch with even after he's left West Shore. He says getting involved with the troupe is probably his most rewarding experience. At State, they'd go out on the town, be in hotels full of drama workshops and take part in intense Nerf battles before shows.
"It's not just darts, but we run at each other with swords," he said.
It's not all fun and games. Held works hard to improve his performance skills.
"This last year I've been focusing a lot on getting better at dance," he said.
He's worked with fellow senior Adam Davidson to improve on jazz and tap dancing. He says it's mostly for theater, but it's a lot of fun and good exercise.
Held says he's most proud of his voice. He sings around the house all the time according to Anna.
"He'll come out and be singing a song from 'Les Mis,' and I'll just join in because we both know the song," she said.
Balancing drama and school also takes a lot of work. Joe says school feels tiring, especially because he can't organize anything. In classes where he's required to keep a notebook, he cannot. Though he's tried time and time again he just can't stay organized. Since eighth grade he's lived through the rigorous West Shore curriculum, but he's enjoying his last year.
"I'm proud that I made it through West Shore, actually," he said.
It's tough, but he says he really appreciates school and he thinks having survived West Shore will make college that much easier.
Between schoolwork and performing, he's found a middle ground. Joe's Senior Project involved writing his own musical number for theater and record the music from it. It involves a lot of piano, to figure out what sounds good.
"I like to sit down and pound stuff out on the piano," he says about another hobby. He's been playing for as long as he can remember. "I've tried something else every now and then, but piano's what I find most fun."
Because he loves to play, he thinks that being a musical writer would be a more realistic career in the performance field than an actor. As much fun as acting sounds, he says it's just as much fun writing pieces as performing them. He wants to follow his dream and hopefully in 10 years he'll have found what he wanted to do.
"I'm not really locked on anything yet," he said. "I'll let you know in 10 years I guess."
Through all the work, he always makes sure to save room in his life for the people that matter most to him.
Held said the best thing that's happened to him this year was that he started going out with Sydney Balgo.
Balgo, a junior, says his quirky and spontaneous personality always makes her laugh, and she never knows what to expect from him.
"One sweet thing was just this past weekend he surprised me and took me to the zoo and then made dinner for me," she said via Facebook. "It was really cute (and he's a great cook)."
They met in Spanish class in Joe's freshman year, but Sydney said they really became close through theater. The two have done more than eight shows together and are both in Troupe 6034. But they also spend a lot of time together outside of school.
"We are always watching movies," Sydney said. "He insists I have lived a sheltered life and has taken it upon himself to educate me in cinema culture."
She adds that Joe is friendly and funny.
"He is always smiling and having a good time and making people laugh," she said.
Anna agrees.
"He's a real sweetheart," she said. "He makes sure to pay attention to people and keep people happy. He's pretty good at that."
She remembers hanging out with him and few others at a friend's house when they all decided to go to the gas station. For some reason, Anna couldn't go and stayed behind by herself. But when they returned from buying snacks and sodas, Joe had bought her a pack of her favorite gummy bears. She says he does a lot with his friends, but he still makes sure to pay attention to people.
"He's kind of known as the 'Gummy Bear dude' now," she said, smiling.
The siblings do most of the plays together, and though he says he'd love to be more technically proficient in musical theater (Having the "know how" to tell people what would sound good, "adding a ninth [note] here, or a sixth there."), Anna says he knows quite a lot about singing and acting.
Once while running through her short monologue for a small part in "The Worst Middle School Play Ever," he came in and said "Anna, no, no no. You're acting. You may only have a small part but put as much in it as you can." He proceeded to tell her some stuff she could do to make it seem more real, like fixing her posture, explaining what to do with her hands, and showing her how she could speak towards the audience and project her voice. As much as she hates to admit it, Anna says he brother is her role model.
"Sometimes we'll walk out of the house wearing the exact same thing," she said. "People say we speak alike too, but I can't tell."
Held says his own role model is probably his dad.
"I'm like, exactly like him," he said.
He said his dad has taught him a lot of things, but one of the best life lessons was to stand by his decisions and not compromise them for anything.
Held says he learns a lot from his dad, but the one life lesson he would want to share with everyone he's learned from his own experience. He would teach the whole world that it's easier to just be the good guy. The best way for him to sum it up would be in the quote from, Elwood P. Dowd, the lead character in the production "Harvey." "Years ago, my mother used to say to me, she'd say 'In this world, you can be oh so smart, or oh so pleasant.' Well, for years I was smart… I recommend pleasant."
"If I could teach them that quote," Held said. "And get them to actually take it to heart, [I would] because it normally pays off in the end."
By Emily Dubec-Hunter