Tumor Terrors raise money for Relay for Life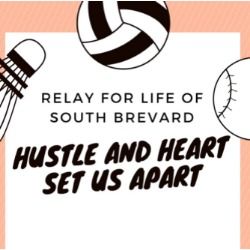 Squeezing out any last-minute donations, sophomore Bailey Wong scavenges around during Power Hour, collecting as much money as possible from students to go directly towards the Relay for Life team's goal of $15,000. Wong and students across campus will be participating in the Relay for Life of South Brevard event, which will be held Saturday from noon to 9 p.m. at Space Coast Field of Dreams.
Relay for Life is an annual fund-raiser, with all the proceeds going to the American Cancer Society, aiding them with their goal of furthering research to end cancer. The event consists of games, music and food, with this year's theme revolving around sports.
As captain of the school's Relay for Life team, nicknamed Tumor Terrors, Wong said despite her short time as leader, she has been doing as much as possible to help.
"I only took on the position a few weeks ago," she said. "[But] I've done a lot of recruiting and work at the school for fund-raising, by telling people about exactly what the American Cancer Society and how they can help."
With only a few days left, Wong has been on the last stretch to raise a few hundred more for the team.
"In the commons area, I'm walking around asking people for donations," Wong said. "Basically, they have been giving me money, [mainly] to go away and let them eat lunch."
Of the nearly $12,000 raised by the team, junior Kishen Mitra holds the throne as he collected more than $11,000. Founding the Tumor Terrors the year prior, Mitra decided to aid in organizing this event instead, recalling his previous accomplishments.
"In May 2018, I stepped up to form the Relay for Life team and be the captain," he said. "We raised the second highest amount in Brevard County, [and] the event itself was a success."
Mitra's passion for helping in cancer research stems from experiences with friends and relatives.
"A little over a year ago, one of my closest family friend was diagnosed with breast cancer," Mitra said. "She went through brutal, life-changing treatment. The touching conversation with her, along with my grandfather being a recent cancer survivor, motivated me to get involved with the American Cancer Society."
Everyone is welcomed to come, as there are many activities planned throughout the day. Many volunteer opportunities are available throughout the eventwhich runs from 10:30 a.m. to 8 p.m.
By Julien Wakim