Middle-schoolers travel abroad for Spring Break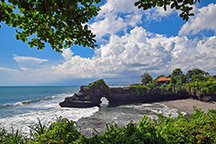 Eighth-graders Nikki L., Lance S., and Paul W. all traveled out of the country during Spring Break.
Nikki went on an eight-day trip with her dad, visiting China and the islands Bali, Indonesia, Nusa Penida and Jakarta.
"I do this every year," Nikki said. "I go to a different place that I want to go to with my dad so we can have time to hangout since he's so busy with work. To be honest, my favorite memory was hanging out with my dad because I rarely get to do that often."
Nikki said she didn't have any family who lived in Asia and didn't know anyone there but was able to easily make friends.
"They spoke really good English in Indonesia which was easy to make friends, and I guess you can say I made a Balinese family," Nikki said.
She traveled to Ubud, Seminyak, Nusa Penida, Canggu, China Guangzhou, Sanur and Bangi Wangi.
"My favorite place was Ubud, Bali because it had a lot of tourists attractions such as monkey forests where monkeys climb on you and elephant riding where I can pet the elephant and wash it," said Nikki.
Nikki said not everything about her trip was enjoyable.
"I didn't enjoy the toilets because there just bowls in the ground," she said.
Lance S. traveled to London and Manchester, England during his Spring Break.
"I went there to see a soccer game," Lance said. "I saw Everton versus Czech Republic. I also wanted to see London."
He visited Westminster Abbey, Tower of London, Windsor Castle and Tower Bridge. He also saw the soccer stadiums of Manchester United and City, Arsenal and Liverpool.
"My favorite place to see was Wembley Stadium because I got to see the England national soccer team place," Lance said. "My favorite memory was seeing England play the Czech Republic because of the stadium atmosphere."
Paul W. took a week-long trip to Barcelona with his sister, mom, dad and grandpa.
"We went to sight see and learn about the culture," Paul said. "In Barcelona, we visited multiple places to take pictures and to learn about the place. This was a new thing for my family. Usually we go to my grandma's house, but this year we wanted to change it up."
He traveled to Montserrat, Spain, La Sagrada Familia and Park Güell. During the other days he just walked around Barcelona. He also went to the Picasso Museum.
"My favorite place to visit was Montserrat," Paul said. "The scenery there was great and there was a lot of culture and stories in Montserrat."
Paul said he enjoyed the feeling of being in another country.
"My favorite memory was getting off the plane knowing that I was in a new country that I haven't visited before," Paul said.
Paul had only one complaint.
"I didn't enjoy the amount of smoking that the people did in Barcelona," Paul said.
By Mackenzie Jerdon
Editor's note: Brevard Public Schools policy prohibits the inclusion of middle-schooler's last names on district-sponsored websites.