School SRO sees duties shift in light of pandemic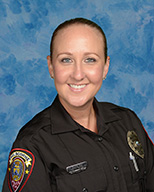 At 8 a.m. on a typical day, school resource officer Valerie Butler waits for students and parents to run the stop sign adjacent to campus. But since Gov. Ron DeSantis closed school for the remainder of the year, she keeps herself busy but not just with making sure the campus remains secure.
"I have been doing several things, including some online training through the police department, obtaining PPE equipment and training on that and assisting the Police Athletic League," Butler said. "I also stay busy with the community by handing out food to children and having lots of Skype meetings with faculty and school administration."
Despite not having students to monitor and protect, Butler's daily routine remains similar.
"My schedule hasn't really changed," she said. "I'm still working my usual Monday through Friday 8 a.m. to 4 p.m., but that will likely change here within the next few weeks as I will adopt a "patrol" schedule and work 12-hour days until school resumes in the fall."
Other resource officers' schedules do vary in light of the pandemic.
"Most other resource officers are doing similar things and still utilizing their school offices to social distance and complete meetings and training," Butler said. "I believe one opted to go work patrol and answer calls for service and one is assisting in the recruiting office."
DeSantis has said he hope for a return of normal school activities in August.
"As we looked at the clock and we looked to see what it would look like, we've got pretty good momentum for distance learning," the governor said in a press release. "It's obviously not the ideal situation, but given where we are in the school year we felt that that was the best decision to go forward."
Butler has similar thoughts on whether students should return to school and what precautions the school and the students should take.
"I am ambivalent regarding students returning to school this school year," she said. "I can only follow the guidelines and directions from the government officials who I hope are much more knowledgeable than I am regarding what is going on. I can't say what that will look like right now. I can imagine at a minimum more cleaning and disinfecting will be occurring, and I'm sure naturally people will social distance best they can anyway as we ease back into things."
About the Contributor
Laith Rukab, Managing Editor
Inspirer by day, jazz musician by night.

This is my second year on staff and my first year as the managing editor for the 2020-2021 school year for...