Runners gear up for Friday's MCC meet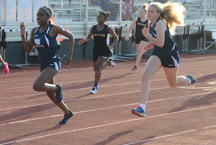 The track team is getting in the last preparations for the upcoming meet at Melbourne Central Catholic on Friday.
Junior Jared Hayes is scheduled to run in the 4×800 meter relay and the 4×400 meter relay.
"I think we will do great this Friday," he said. "We have many great athletes, and we will score a lot of points."
Hayes also has set some personal goals for the meet. He wants to run a 1:59 for his leg of the 4×800 meter relay and wants to run his leg of the 4×400 meter relay in 52 seconds.
Junior Ahjaney Friar who is slated to run in the 100, 200 and the 4×100 meter relay, is not looking to reach a specific time, but rather a specific place when she finishes.
"We have a really amazing relay team this year so I think we are going to do really well in the 4×100 this year," Friar said. "The 200 is my best event so I would like to place in the top three finishers in my heat."
The meet will be held Friday at 7:30 p.m on the MCC track.
By Jacob Kent