Wildcats escape Edgewood, 51-46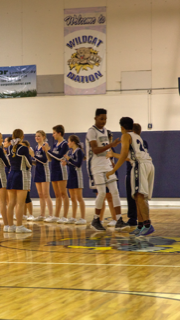 Senior Tony Hedrick scored 18 points and junior Auston Gonzalez added 16 more as the varsity boys' basketball team held on to defeat Edgewood 51-46 Tuesday night in a Cape Coast Conference playoff matchup. The Wildcats took at 35-19 halftime lead and held on to win despite a 2-point third quarter.
"I think we lacked a lot on defense in the second half after gaining a decent lead in the first," sophomore Daniel Shelton said. "We need to play more aggressively along with run our plays correctly to be more successful against teams."
The victory marked the third time this season the Wildcats defeated Edgewood, giving them a 3-0 record against their cross-county rival heading into the Junior/Senior Pride Classic.
"Going into the tournament, we need to play as a team and push the ball more on offense," said junior Travis McClendon, who scored 6 points Tuesday. " Defensively, we need to work harder to not allow teams to get into the paint as much and rebound more efficiently."
The Wildcats next travel to Edgewood to kick off tournament Thursday at 7 p.m.
By Abdullah Shahzad