Playing through the pandemic
Teams tackle new COVID-19 regulations
Senior Henry Pavlick said he faces his toughest competition this basketball season: the new regulations COVID-19 presents.
"This year is a lot different than previous years," said Pavlick, a third-year varsity basketball player. "I have a lot more urgency due to it being my last year in the program. I want to make the most out of this year."
Athletes, if not testing positive COVID-19 or in quarantine, now have to integrate precautionary steps into their routines, such as cleaning protocols, wearing masks on the sidelines and social distancing during contact sports.
"For all the seniors on the [girls' basketball] team, this is not the season we imagined," said senior Olivia Blackwell, a second-year varsity player. "Some players from last year did not come back due to COVID-19 and we've already been impacted by people in quarantine. At this point, all we can do is hope that people follow protocols and that the season does not get shut down altogether."
In efforts to reduce human contact, part of the Brevard Public Schools' reopening plan included limiting the spectator attendance at games to 50 percent or less.
Junior Luca Sullivan said the reduced cheering section of family and friends won't be particularly fun — especially the Senior Night game scheduled for Jan. 15.
"One of the best parts of senior night is having a packed gym," said Sullivan, a second-year varsity basketball center. "In games, we are going to have to wear masks any time we're not playing. In practice, we have to do the same. Anytime we're not on the court we have to keep a mask on."
Karlynn Mann, a senior who's been on the varsity basketball team for three years, said the team dynamics have changed this year as a result of the pandemic.
"We lost a lot of players," Mann said. "Not having key players that most of us have been playing with since seventh grade has made it difficult to adjust."
Before the boys' basketball season could start, five varsity players were quarantined and omitted from any preseason games. Senior Bennett Kent was one of them.
"I never expected my [senior] year to be like this," said Kent, a fourth-year varsity player. "It's not wearing masks that bothers me, or that we have to get our temperature taken before we enter the gym; it's how quickly our season can get shut down and how I only have 22 games left before I never play again. The thought of my last games being taken from me really upsets me."
Madison Ainbinder, a senior and fourth-year varsity soccer player, said this year has been anything but ordinary.
"I'm coming off an ACL injury which is a challenge in itself," Ainbinder said. "Because of [COVID-19], we were supposed to have our Senior Night way earlier in the season. With girls already testing positive two games in, that had to be moved. [This shows] how careful we truly have to be on and off the field to be sure we all stay healthy and can keep the season going."
Sophomore Cole Ratkus said players have to constantly check their temperature and fill out a COVID-19 symptom sheet at their varsity soccer practices.
"I haven't played with the seniors until this year, but I've watched them," Ratkus said. "Michael Villanueva, in particular, always lifts up the team and brings energy on the field no matter what the game looks like. In practice, he doesn't let anyone get their head down either. It's really good to have him there on a bad day."
Villanueva, a senior and fifth-year varsity soccer player, missed the first four games of the season due to quarantine.
"This past week, we had six players, including my brother and I, missing our two toughest games," Villanueva said. "Moving forward, a lot of the players have decided to go online for the remainder of the season to eliminate the possibility of being quarantined through contact tracing. Now, I feel that I'm stuck between going online to save my season or staying to risk it for the few in-class experiences I have for senior year."
About the Contributor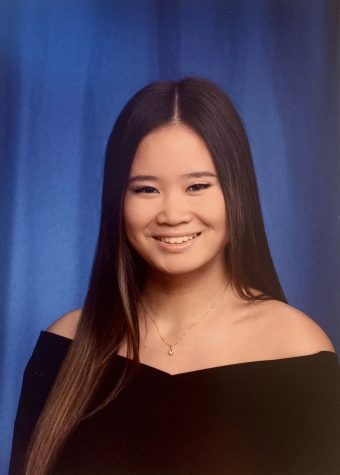 Keira Coleman, Staff Writer
I am super excited to be a part of staff for my senior year.

When I'm not writing, you can find me in the kitchen cooking ramen.