Boys rally for first-ever varsity lacrosse win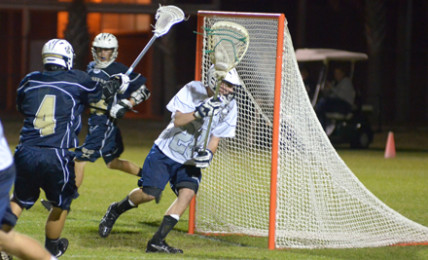 In a nail-biting comeback game for the Cats, the boys' varsity lacrosse team pulled off the first victory in its two-year history, defeating the Eau Gallie Commodores 3-2 Tuesday night.
Junior Ryan Bellone scored an early goal to set the pace of the game, but the Commodores ended the first half by with two goals. West Shore junior goalie Jack Moore saved eight of the 10 shots throughout the game.
"I was pumped but nervous at the same time. There was a lot more communication among [the defense] and we just connected," Moore said. "It was a lot harder for the Commodores to get a shot on the goal. We made them really work for it."
The response from the team on this milestone for West Shore boys' lacrosse was enthusiastic as they prepare to make a new name for themselves in the district.
"We're no longer West Shore that always losses, but West Shore a team that can score and win a game," Bellone said. "We have proved ourselves."
Not only did this game prove to the school and opposing teams that they could pull away with a victory, it also proved to the team that it can come together and succeed.
"We needed this win to boost our team, we knew we could win at least one game and it's about time we did," Bellone said.
Lead goal scorer Austin Altevogt,  a freshman, put away the second goal, tying the game and giving the Wildcats the momentum they needed to finish. With five minutes to go, junior Ian Chan scored the third goal to seal the victory.