Popular author's novel may do more harm than good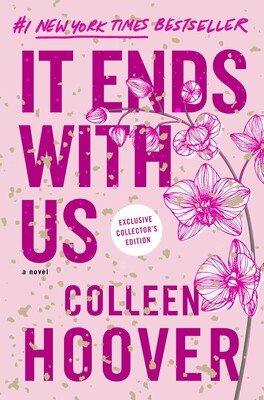 Content Warning: this story contains discussion of domestic abuse and sexual assault.
In 2022, young-adult author Colleen Hoover's novels sold more print copies than the Bible. Despite their rampant popularity, these novels are full of depictions of abuse and manipulation. 
Hoover, author of titles such as "It Ends With Us" and "Ugly Love," has skyrocketed in popularity in recent years. Despite her presence on social media dating as far back as 2012, Hoover's work found its way into mainstream attention in 2020, promoted largely as a go-to for beach-reads and romance.
The issue here lies in the fact that Hoover's novels are anything but an easy read. Readers may pick up "It Ends With Us" expecting a fun and romantic romp, and instead are faced with graphic, grim depictions of violence against women. 
The novel follows Lily Bloom, a young woman who falls in love with 'bad boy' archetype, Ryle. Both have traumatic pasts, and Ryle soon becomes abusive. His physical violence is framed as an outburst, a moment of weakness. Lily justifies his behavior by claiming he is haunted by his own past, and that he simply made a mistake. His outbursts continue, and later in the novel, Ryle commits a planned sexual assault against Lily for keeping a fridge magnet from her high school boyfriend. 
By the end of the novel, Lily has left Ryle, but is pregnant with his child. She ultimately decides to allow him to co-parent with her. This is framed as an act of strength for Lily, and the book implies that allowing a violent abuser to be around her child is a sign of her healing. A quote on the front cover of "It Ends With Us" claims that, "every person with a heartbeat should read this book."
In "November 9," protagonist Fallon is forced into a revealing dress by love interest Ben. He later tells her, "I'm paying for dinner, so I get to choose what I stare at while we eat." Large portions of his POV are spent both objectifying and shaming Fallon, who has large burn scars as a result of a house fire. During a scene at a bar, Ben kisses Fallon while he is sober and she is drunk. She asks him to stop and he tells her to "ask again" while molesting her. 
At the end of the book, it is revealed that Ben set the fire. She subsequently forgives him for this, and the two kiss at the end of the book.
Looking at these two novels, two of Hoover's most popular, the trend becomes clear. An insecure girl falls in love with a man who assaults and betrays her, and she forgives him by the end. 
Hoover's stories are marketed as romances, existing with the implication that the couple in question will end up as lovers, or at least on good terms. Her protagonists fill these roles in every novel. Characters like Lily and Fallon morph into perfect models of forgiveness and acceptance, caricatures of healthy behavior, modeling their demure states for Hoover's largely young audience.
Hoover's books have not become popular by sheer chance, either. The Young Adult and New Adult genres are more profitable than ever due to BookTok, a community on the social media platform TikTok who discuss and promote authors and books. Hoover's books have gained large followings from social media, where the behavior of abusive love interests is portrayed as being complex and romantic. 
The marketing of Hoover's books on TikTok and Instagram is a clear misrepresentation of the subject matter depicted. Minors as young as 10 frequent this space, and could easily be enticed by reviews from a creator they love. 
Hoover's books are indicative of a wider trend in the YA genre, wherein abuse is normalized and promoted to increasingly young fans. Representation of abuse in normalized settings is inherently harmful, and increases the likelihood for this idea to permeate throughout real lives.
The issue here lies not in the mere existence of stories like this one, but rather in their irresponsible promotion. Tiktok has 1.5 billion global monthly users as of 2022. According to Statista, 32.5 percent are aged 10-19. These users are young and impressionable. When subjected to these depictions of romance, their expectations of love may be warped. Despite this, these novels are promoted to younger and younger people, with creators seemingly unaware of the harm they may cause.
Problematic depictions of romance have existed for as long as literature has, but in the internet age, this content is more accessible than ever. The responsibility lies on creators to ensure they are marketing content to the appropriate audience, and on other users and students for voicing opinions about novels like this one. Hoover's work has merit in its own right, and should not be banned, but rather marketed properly to avoid causing immense harm to young teens