Shhhhh
Reaction to minute of silence mandate
Sophomore Lillian Goodman begrudgingly sits in silence for a minute following the Pledge of Allegiance every morning. House Bill 529 took effect for Florida public schools on July 1, requiring students to have a moment of reflection each day.
"I feel like we all reflect enough in our own time," Goodman said. "We now have shorter class periods than last year, so even if it's just a minute, it feels like a waste of time. It just feels like we're sitting quietly for a minute."
According to Principal Rick Fleming, students may use the silent pause as they wish.
"There is no action taken on a student who chooses not to participate in the moment of private reflection," he said. "However, they are expected to recognize it for others and not be disruptive. If the student chooses to work on schoolwork or something similar, we are certainly okay with that."
HB 529 states that teachers cannot make suggestions as to the nature of reflection. 
"Whether a student prays or simply gathers their thoughts on any issue important to them, it is their time and theirs alone," Fleming said. "I like to think that a brief moment of private reflection will provide a student time to simply process everything happening around them, as the world is a pretty crazy place right now."
Fleming said the silent minute is a positive implementation. 
"I always like to think that things that are good-intentioned and student-centered are good things," he said. "I am hoping that it is well-received  by the students, and only time will tell."
Senior Madeleine Coalter said the implementation of the minute of reflection won't affect students much.
"I think it's more like something [the state government is] doing to check the boxes," she said. "I don't know if it will have too big of an impact on students because we're used to standing and saying the pledge every day since it's normally in our morning announcements. I'm not sure if people will really listen to the moment of silence. I heard that in some classrooms, people just weren't paying attention."
The minute of silence doesn't lead to reflection according to Goodman.
"First I think, 'Wow, this is kind of silly,' and then I carry on with whatever I was doing," Goodman said. 
Because Coalter leads the silent period on an every-other-day basis with senior Lily Winsten, until the faculty finds a full-time leader, she said she doesn't use the minute for reflection.
"The few times that I've had to read it so far, I'm in the attendance office, holding my timer for a minute and looking at the time, trying to think about what I'm going to say after the moment of silence," she said. "I'm not really doing much reflecting."
According to Coalter, having a pause in the morning takes away some of its potential.
"I think it would be more beneficial if it's at the end of the day, so students can reflect on their day as a whole, and so they're a little more awake," she said. "I know I'm not very mentally awake at 8:30 in the morning."
Goodman said the government shouldn't require the moment of silence.
"I don't think they should keep doing it," Goodman said. "If they want to keep doing it, then okay, but it's just a waste of time."
About the Contributor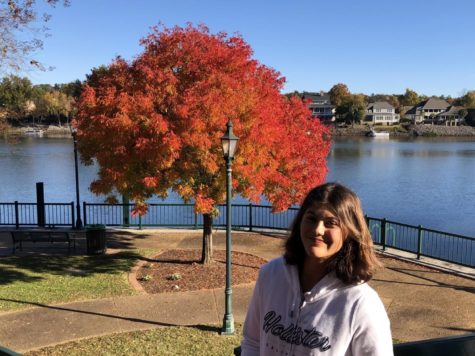 Caroline Scott, Staff Writer
I'm a junior, and this is my second year on The Roar staff. I love to read and have at least three books lined up at any given moment to read once I...