Language-proficient seniors to receive special recognition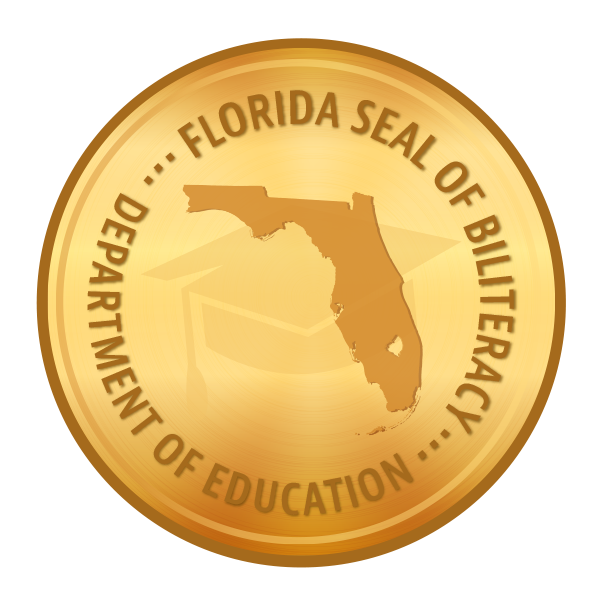 When the seniors walk across the stage at graduation, a select few will be receiving a new type of award alongside their diplomas. These students will receive either the Gold or Silver Florida Seal of Biliteracy, an education bill which was signed into law on April 14, 2016 by Gov. Rick Scott. The award recognizes high school students who have proved that they are proficient in another language besides English, which they do so by meeting the necessary requirements in their respective world languages.
"I always like being recognized," senior Juan Rodriguez said. "I'm sure other people would like to be recognized as well for all the hard work they put in, especially if they went the extra step to take four years of a language and pass their AP exam."
The seal will be given to graduating high school seniors who have either taken four years of the same world language while maintaining a 3.0 cumulative grade-point average in that language, or achieved a qualifying score on a language assessment. The seniors will be granted either a gold seal, which is the highest level of competency according to the standards set by the Florida Seal of Biliteracy program, or a silver seal, which is the second- highest level of competency.
"I think it's important in school to emphasize that if you do four years of language, you're going to be recognized," Spanish teacher Luis Martin said. "Learning a different language, especially Spanish since Florida has a huge Hispanic population, is very important."
Some students may already have the seal on their diplomas when they graduate on May 19, others, however, might have to wait until July.
"First we're finding all of the students in the district who have already qualified," World Language Resource teacher LaDona Miller said. "They'll already have the seal on their diplomas. The ones that we won't know about are those who are completing the testing piece, because AP and IB scores don't come out until July. So what we'll do is say these are a list of candidates and if they pass the exam they'll have to come in and get it fixed or we'll mail it to them."
Rodriguez, who is a native Spanish speaker and will be receiving the Gold Seal of Biliteracy, said the award will only motivate hard-working students to take more years of a world language.
"I think it'll make the people who are competitive take foreign languages for a longer period of time," Rodriguez said. "But for those who just want to take it because it's a requirement, it won't make them do the extra years."
Senior Katelyn Kent, who has taken five years of French, said she is excited to have qualified to receive the seal.
"I think that getting the award is so cool," Kent said. "It's a good way to show the extra work we've put into French beyond the required years. It shows that we've gone above and beyond by being in the class for more than just three years."
The Seal of Biliteracy also offers a unique opportunity for students who are native in one language but are taking classes in another. As long as students meet the requirements for the language they are taking in school to receive the seal, they can earn another by deciding to take one of the tests, such as an AP exam. Junior Jennifer Torres, who natively speaks Spanish but is in her fifth year of French, is an example of this.
"I'm going to go for the two seals because I can get more opportunities," Torres said. "It'll be something that can set me aside from other people when applying to scholarships and universities. I'll also be considered trilingual, and that can open more doors for jobs since employers want people who speak more than one language."