Ketanji Brown Jackson confirmed as first Black woman on Supreme Court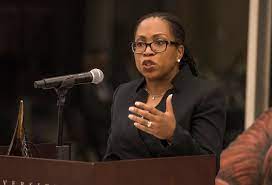 The Senate confirmed Judge Ketanji Brown Jackson to the Supreme Court on Thursday. Jackson formerly worked as an assistant federal public defender in Washington, D.C., where she worked on appeal cases and held the role of vice-chair of the United States Sentencing Commission for many years.
"While I've been studying candidates' backgrounds and writings, I've made no decision except one: the person I nominate will be someone with extraordinary qualifications, character, experience, and integrity — and that person will be the first Black woman ever nominated to the United States Supreme Court. It's long overdue, in my view," President Joe Biden said on Jan. 28.
Sophomore Shaila Venkat said she's pleased to see more diversity on the court.
"[Jackson's] confirmation is a major milestone in America because she is the first black woman to be confirmed. I know that Sonia Sotomayor was the first woman of color, but I think having another woman of color on the court would really allow for there to be a new perspective," Venkat said. "To see someone like her on the court might be an inspiration for other young girls of color who want to pursue a future career like [hers]."
The Supreme Court is the nation's top court for all matters and conflicts originating under the Constitution or US law. The court rules on topics affecting workers at the negotiating table, ranging from our ability to form unions to the subjects we bargain about. Out of the 115 supreme court justices since 1789, five of them have been women.
By Mariam Hassan