Global Sustainability Group strives for clean future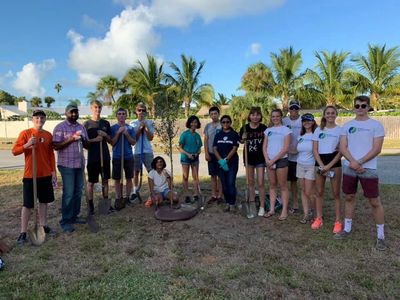 Growing up in Brevard County, senior Luke Marzano and junior Jessica Marzano were upset with the lack of environmental care in their community. The siblings launched the Global Sustainability Group in 2018 to raise awareness about the importance of preserving and protecting the planet. 
As a nonprofit organization, they rely on community support to complete beach clean-ups and tree plantings.
"It was really a family idea," Jessica said. "We told our parents our vision and they helped us start the group."
The Global Sustainability Group primarily plans events in Melbourne Beach.
"The work mainly consists of doing beach clean-ups and planting trees," Jessica said. "We spend countless hours improving our local beaches and local waterways in Melbourne. The pollution in the Indian River [Lagoon] is a perfect example of why we have to have kids get involved and participate with our group."
Luke and Jess take the majority of the responsibility when it comes to planning and managing events.
"Every month, we try to gather volunteers and set a date and location where we will work," said Jessica. "A lot of the work and planning is done in the background."
The group is not alone in their want for a cleaner and better environment, other groups in Melbourne participate in their events.
"The Melbourne Beach Garden Club and the Melbourne High Environmental Group are some of our usual partners during our events," said Jessica. "We both bring plentiful volunteers and each has the same goal at the end of the day."
COVID-19 has slowed down the group's efforts by restricting the number of volunteers they could have at each event. 
"It is a serious issue, said Jessica. "We haven't done as many events as we would like to this year and we have to wear masks and social distance to keep everyone safe."
Despite the group's efforts, Jessica said she believes the youth needs to take initiative.
"We are just a small part of this world and we can't inflict big change on our own," said Jessica. "We have to fix the problem before it becomes too big of a problem. And that is only if each of us takes small steps to ensure a better future."