Crown named 'Florida Today' top scholar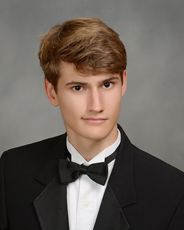 After being recognized for his academic achievments and outstanding creativity, senior Joey Crown has been selected as West Shore's Class of 2015 Top Scholar for Florida Today. The newspaper recognizes one graduating senior from each high school in Brevard County with more than 50 students being featured for their achievments in and out of the classroom.
"Frankly, I'm honored," Crown said. "I've always felt that I never really had a presence as an academic, but I work hard and got good grades, and it's nice to get recognized for that."
Chosen by administrators from their school, the Top Scholar winners are required to create a short video on where they see themselves in 10 years.
"We wanted someone with a lot of creativity, so it wasn't just about academic brilliance," guidance counselor Dina Deerman said. "We know that Joey was not only very intelligent, but he's also very creative. He wrote a brilliant one-act play, called Riot. He did it as part of his Senior Project. Part of the music and script was written by him and co-written by [senior] Evy Sotolongo.
By Hannah Brusca