'Woman in Black' presents spooky tale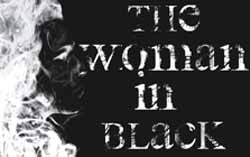 I entered the Henegar Center to see "The Woman in Black" on Friday with a little trepidation and some indifference: I thought I would have been just as happy to stay home as to go to the play. However, by the end of the play, I would have gladly watched it again. "The Woman in Black" is an intense ghost story that forgoes the clichés of the genre — clanking chains and howling winds — for a deeply spooky, spine-tingling tale.
The play starts with two men in a run-down theater. One, a lawyer named Arthur Kipps, has sought the help of the other, an unnamed actor, to bring his story to life. The story, Kipps says, is a terrible thing that happened to him when he was young, and he must tell it to his family so that he can finally "lay it to rest." To help him do so, he and the actor re-enact the story, with the actor taking the part of Kipps and Kipps himself taking all the other parts.
Decades earlier, Kipps was sent to a small village to attend the funeral and go through the papers of a deceased widow, Alice Drablow. However, the village and Drablow's house are haunted by a woman in black, who now focuses her attention on Kipps. As he discovers more and more of the woman in black's sinister story, Kipps' experience becomes more and more harrowing.
For 99 percent of this masterful play, no more than three actors are on stage: the actor, Kipps and the woman in black, who doesn't speak. Most of the play lies on the shoulders of David McQuillen Robertson as the actor and younger Kipps, and he carries it flawlessly. Terrence Girard is also brilliant in the role of older Kipps and everyone else in the play-within-a-play. The props are bare-bones, but that is part of the play's appeal: the actors convey their surroundings completely through their acting, creating a spellbinding performance. Girard's ability to play a variety of characters without creating the least doubt in the audience's mind as to which is which is particularly stunning. The suspense is heightened by frequent lighting changes — especially those that leave the theater completely dark — and by the fact that the actors often leave the stage and deliver their lines from among the audience. These two things combined to leave me expecting to see the woman in black appear beside me at any moment.
"The Woman in Black" is an intense, beautifully-acted play that ended with a chilling twist, and I'd definitely recommend going to see it before it ends on Oct. 28.