Musical 'South Pacific' set to premiere Friday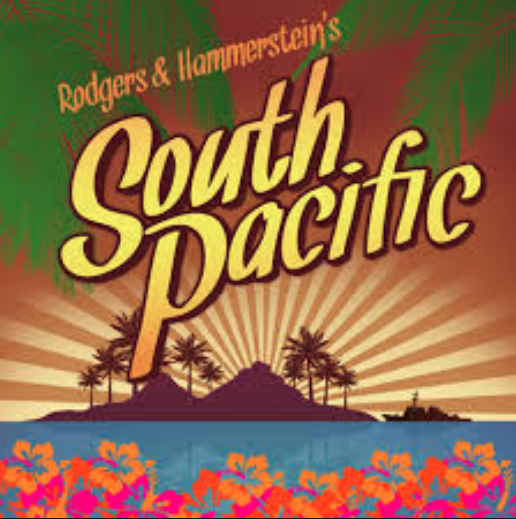 The musical production of "South Pacific" will wash up on stage with shows Friday and Saturday in the school auditorium. High-school students as well as a middle-school student who is to play the son of Emile have been preparing for a month and a half. Due to scheduling conflicts, high school thespians have had to double-up on rehearsals and coordinate others' scenes all while saving their voices for the production.
"It was really hard with scheduling because we'd want to practice for our state events but at the same time we had to practice for 'South Pacific,'" said senior Rachel Montgomery, who is portraying the lead of Nellie. Otherwise, we'd have 'South Pacific' rehearsal when we really just needed to practice our state events. Emotionally, it's been a lot because we had states before [the show], and I'm also doing the dances for it. So, I had to learn the lines, the music, the character, the choreography, and everything else. It was kind of a lot, but it's been a fun process."
Montgomery said she has looked forward to playing the lead in a school production for a long time.
"I've been taking vocal lessons for almost three years now so, at least vocally I've been really prepared for it," Montgomery said. "The role itself is very similar to my personality, so in preparing for the role I didn't really have to do much to get into character. Memorizing lines comes pretty easy to me. I had everything memorized two weeks prior to this so I could really prepare for it. I've worked with my co-star, Dylan O'Bryan, quite a bit. We've rehearsed a lot and our vocal teacher, Mark Baker, has helped us on scenes which is really nice."
O'Bryan will be portraying Montgomery's love interest as "Emile" in the show and he expands on dealing with states and the show being so close.
"It's a lot to do in a short amount of time," the junior said. "When you're so concerned with preparing for states and doing well with your events, you really have to try to juggle and practice and rehearse both for states and 'South Pacific' at the same time which can be really hard. This year I ended up just focusing on states and didn't really rehearse as much for 'South Pacific' the week leading up. It's definitely hard to balance the two."
Finding the perfect harmony of rehearsing for multiple commitments is one thing, but finding that harmony with your co-star is quite another.
"Rachel's great," O'Bryan said. "She really knows what she's doing. She has all her lines and music down, so working with her is easy in that regard. We are also friends in real life, so it just makes being on stage a lot easier and it works out well."
"South Pacific" will premiere Friday at 7 p.m. with additional performances on Saturday at 2 p.m. and 7 p.m.
By Jade Norton