Lil Nas X stirs controversy with new song, video and shoe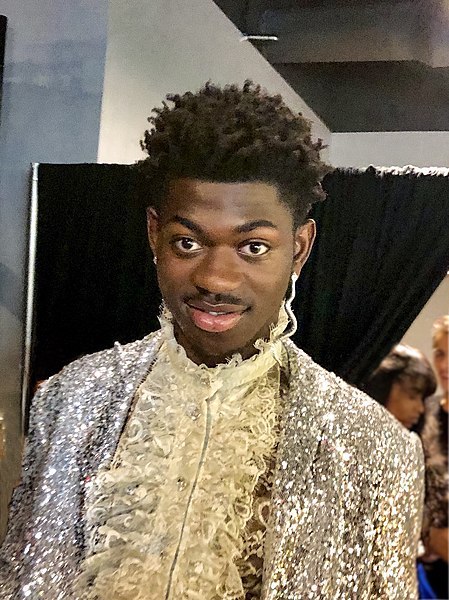 Lil Nas X has released the hit song "Montero (Call me by Your Name)" along with a unique and attention-grabbing music video, featuring incredibility enhanced editing.  Lil Nas X  plays almost every character in the video in various costumes and makeup. To him this choice could be to show that every character is a different version of himself and the conflicts within the video represent his internal struggles. The imagery alludes to the Bible and ancient Greek culture. It begins in his version of the Garden of Eden, where after sinning, he is taken to a coliseum where he is chained and executed. He then descends to hell and seduces the devil before killing him and taking the throne.
Lil Nas X talked about "Call Me by Your Name" being one of the first films about a queer couple that he had ever seen. The film's metaphor resonates with him and served as inspiration for his new song. "Montero" is his first name and the title of the song. By doing this Lil Nas X intends his name to represent the person he is singing about. When talking about his lyrics Lil Nas X explained that to him the metaphor is about keeping a relationship secret between two people and lust that makes him not care that it is not public. He talks about the song representing desperation to be loved by someone and said he prides himself on helping to normalize singing about same-sex relationships in the same way that straight creators sing about romance in their music. 
While some are upset about symbolism and inclusion of satanic symbols, Lil Nas X said the video is a response to people who tell him that he is going to hell for being an openly queer artist. This video is his way of saying that he would rather be in hell than in a place where he cannot be his authentic self. It is also ironic that after people tell him he is going to hell they get mad at him again when he embraces their words and portrays them in his music video.
In preparation for the music video, which he co-directed, Lil Nas X spent weeks learning to pole-dance, which he found to be the most challenging aspect of the video to shoot. His efforts certainly paid off since "Montero (Call me by Your Name)" made it to No. 1 trending on YouTube.
In addition, Lil Nas X created a unique "Satan Shoe." Some of its features include Luke 10:18 painted on the side in red and a drop of human blood in the air bubble at the sole. Each of the 666 pairs that were created are being sold for $1,018. The number 666 references the beast in the biblical book of Revelation and the price references the Bible verse Luke 10:18 which describes Lucifer's fall from heaven.
After receiving backlash from Christians who were mad about the glorification of hell and for dropping the shoe collaboration, Lil Nas X issued a fake apology to poke fun at people upset about his art. In response to parents who are upset that their children might be influenced by his music, Lil Nas X explained in tweets that he doesn't create art for kids. It is not his job to cater to a younger audience and censor himself for them. 
For those who thought "Old Time Roads" would be Lil Nas X's only hit, the 21-year-old creator has proven he has no plans of slowing down. This summer he plans on dropping an album also titled "Montero" along with more singles. The release of this music video and the controversy surrounding it is excellent advertisement, building a ton of anticipation for what is next to come.