Jazz band 'rocks' Festivus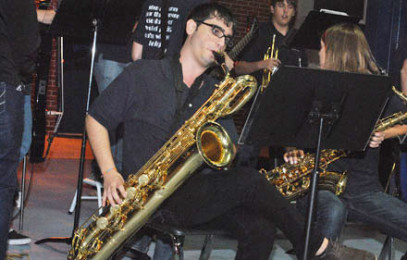 The courtyard became the location of the jazz band's first after-school show this year at the Festivus Marketplace on Friday.
"I thought the show was great," junior Alex St-Pierre Pesant said. "It was fun to play for people. We did it to help the PTA get some extra cash, so it was for a good cause."
The performance marked an after-school first with the jazz band for Pesant, who has been playing the drums for less than a year. He takes private lessons and says jazz band is a good way to get some practice in various styles as well as have fun.
"Despite the fact that I think it went well, we probably could have been a lot better," Pesant said. "We didn't really start rehearsing for about a week before the gig. It was kind of a last-minute thing in terms of practicing. As I said, it was still a good show."
Jazz band has two more shows coming up; the winter concert Nov. 28 in the auditorium and a show Nov. 30 at the Barnes & Noble's across from the mall.
"I can't wait to play again. I was approached by some people afterward telling me I did a good job," Pesant said. "Plus, I got some looks from the ladies. No wonder jazz was so popular. It seems to bring people together."
The performance impressed band director Carol Allen.
"It was one of the better shows I have seen," Allen said. "It wasn't just good compared to this year's shows at pep rallies and stuff, but compared to all of West Shore's jazz bands."
Allen said many people approached her to say band played well.
"[Assistant Principal Jackie] Ingratta came into my office on Monday morning just to tell me that the band did great," Allen said. "I feel like a proud mama. Yep, I'm a proud jazz mama."
By Nathaniel Curtis