Grande's 'Yours Truly' brings spark to R&B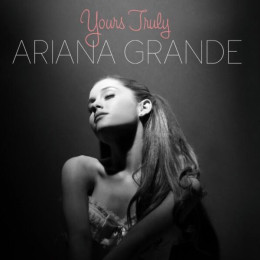 The couple of times I stumbled on the Nickelodeon show "Victorious," I was genuinely surprised — not by the weak, cookie-cutter songs (no shock there) — but by the powerful voice and impressive range of Ariana Grande. And hearing her first single "The Way" back in March, I was pumped to hear her vocal talent put to good use. Grande's first studio album "Yours Truly" combines the likes of today's pop with 90s R&B. Debuting at No. 1 on the U.S. Billboard 200, "Yours Truly" gives the R&B genre a spark not seen from a female artist in years.
"Honeymoon Avenue" is a strong opening to the album. The song unfolds with romantic strings and smoothly transitions into a catchy beat. Grande shows great control throughout and belts out the chorus like a veteran artist. The song is better written than most on today's pop radio, using a stronger metaphor than, say, Miley Cyrus's "Wrecking Ball." Grande sings how "her heart is stuck in bumper to bumper traffic" and how she's "stuck in the same old lane/going the wrong way home." A perfect way to begin an album. Listeners will be entranced by Grande's strong voice and convinced to move on to the next song.
Released in July, "Baby I" was the second single from the album. Grande's voice has been compared to the likes of Mariah Carey, and the similarities are apparent in "Baby I." Grande even uses Mariah's trademark whistle register. Though the song can get repetitive (she says "baby" 48 times in 3.5 minutes — I'm sure that's the pop influence), it capably describes the frustration of not being able to properly articulate one's love. "Baby I" is an excellent representation of Grande's vocal range.
"Tattooed Heart" is one of the shortest songs on the album but one of my favorites. Surely influenced by doo-wop, the light piano beat and "la la la" in the background seem perfect accompanying Grande's soulful voice. The lyrics are pretty standard, filled with typical lovey-dovey phrases ("just call me, if you want me"), but it doesn't really matter to me. Grande could be singing scales, and I'd still love this song.
The album's first single, "This Way" feat. Mac Miller, describes how Grande "got a bad boy" but she "ain't going nowhere 'cause you're a keeper." The refrain is catchy, and Grande uses her whistle register (yet again). Mac Miller provides fun lyrics, but you don't really remember him compared to Ariana Grande.
Grande duets with now-boyfriend, The Wanted's Nathan Sykes, on "Almost Never Enough." The two give impressive performances in this soulful ballad, playing off each other well. The song describes an ending relationship and how the two were "so close to being in love." Grande, again, delivers with her strong upper register. The quiet piano fits the tone wonderfully, allowing their voices to shine. Another one of my favorites.
"Popular Song" with MIKA is kind of painful. Neither singer is bad, but the melody sounds like its from a, well, Nickelodeon kids' show. And I mean really young kids' show. The lyrics unfortunately are the same ("I know about popular/It's not about who you are or your fancy car/You're only ever who you are"). It sounds so childish compared to the sophistication from the rest of the album. Though Grande delivers vocally with her lower register, overall, this song is a stumble.
"Yours Truly" is a strong debut for Grande. Though the song lyrics are actually quite pedestrian and the songs all have similar tones (except "Popular Song"), Grande's talent gives this album substance. I'm always grateful for a legitimately good singer in pop music, but Ariana Grande seems like a godsend with enormous potential. If she manages to find consistently better-written songs, she'll be a force to reckon with.
Leave a Comment