Gaga's ARTPOP bursts with repetition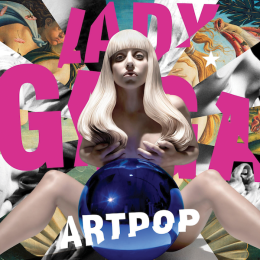 Stefani Germanotta, most commonly known as Lady Gaga, is best known for her eccentric outfits (e.g., the meat outfit at the 2010 VMA's) and her outlandish, provocative songs that take you to a faraway planet. She is fearless fighter with no reservations. She supports gay rights, she's not afraid to sing about drugs or sex and she is not intimidated by media to express her body.
ARTPOP is her third studio album. It adds a plethora of soul which is bizarre compared to the musicians of 2013. This album starts off with a familiar influence of Justin-Timberlake soul mixed with golden sounds of the disco era.
"Aura" is the first song on this album and is probably the most techno-pop like. This song is a traditional Gaga song, filled with techno influence. This song has an almost out of this world feel to it, similar to a space-themed movie, like Star Wars.
"Venus" is the second song on this album and it relates most closely to the goddess of 80's disco music, Donna Summer. This song is my absolute favorite. The beat of the song has an almost Bollywood atmosphere to it, heavy bass but light vocals. The background sound contains many cuts and shifts, with unpredictable melody changes. The lyrics describe "Venus" the Roman goddess of love and how Gaga wants to be taken to her to be immersed in love.
"Sexx Dreams" holds the most provocative lyrics out of this album. Although the lyrics are explicit, only in the sense of what they are describing, they are very catchy. This song holds the most dubstep type of beats in the album, containing some minute but powerful bass drops throughout the chorus.
"Jewels 'n Drugs" feat. TI, Too $hort and Twista is her first endeavor into the rap field. The lyrics don't follow the flow of the song and they are repetitive and annoying. She sounds like she is trying to imitate Gwen Stefani but she puts too much emphasis on her voice, making it sound too nasally.
"Do What U Want" feat. R. Kelly is the seventh song. Gaga's vocals are toned down; they give the song an almost indie vibe. R. Kelly is known for his cool collective voice and he doesn't hesitate to bring his iconic sound to this jewel. Gaga and Kelly make a perfect duo; this is one of the strong suits in this album.
The final but by far the most popular song on this album is "Applause." It's a great song, with catchy lyrics, and the style of the song reveals the reappearance of Gaga's "Fame" album. This song is probably the pinnacle of this album. It has everything: catchy beats, great vocals, and an incredible chorus. This song is the savior of this album, without it this album would have no recognition.
Overall, I thought this album was good but lacked the originality I expected from Gaga. The majority of the songs on the album sound very similar to the pop songs on the radio currently. I feel as if Gaga did not spend as much time on this album as she has done previously. I favored Lady Gaga's more creative dance-inspired songs. I believe that Gaga is an insanely talented singer/songwriter and I feel as if she had let her "little monsters" down, but don't give up on her just yet, she has a repertoire for the unexpected and I have no doubt she'll bring a powerful punch in the future.