PSAT scores released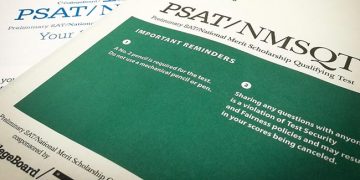 After just under two months of waiting, PSAT scores were released Dec. 9. They are available on the College Board website as well as in the guidance office if students don't have an account on College Board. Registered students took the PSAT on Oct. 16, and missed the first half of classes. This standardized test is one of many to determine student's potential in college, and many are pressured to do well.
"The questions were pretty easy, but I didn't get the score I hoped for," Jack Zhao (9) said. "I did not take it seriously this year, and I should've to prepare myself for next year. I don't think standardized tests are healthy for students because it's only one test so you can't really tell if a student is smart just because he did well so he should have more opportunities than someone else."
Christian Garcia (9) took the test for the first time.
"I was not used to how long it was," he said. "I didn't really know what to expect since it was my first time taking it. In some cases, standardized tests can be good like applying to colleges or preparing for college. But like the FSA every year, it gets a little redundant and sets unnecessary standards for everyone.
Many students take the PSAT to try and qualify for the National Merit Scholar program, which awards students with high scores with scholarship offers to many colleges nationwide.
By Victor Liu