Do Your Best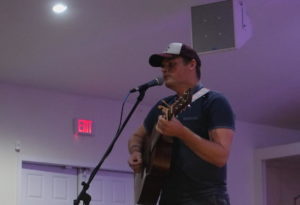 Indie musician 'Rodger the Rover!' creates intimate atmosphere with recent performance 
"Rodger the Rover!" is a stage name coming from an origami dragon and a song lost in time that captures a man and his music perfectly. The quirky name suits this musician and his quick quips between songs. He proved to be a relatable act who made audience members comfortable, feeling as though he was on their level.
"Rodger the Rover!" followed a band that was loud and intense. He took the floor, and he knew how to make people feel exactly what emotions his songs conveyed. He opened his set by asking the crowd to sit on the floor. The small group gathered around him, creating an special setting, like that of a campfire singalong.
He was obviously anxious before he began his set, but as soon as he did, it seemed like he had been performing all his life, singing all original songs, and one potential song. His tunes were all captivating, featuring just him, a guitar and raw emotion. He told everyone about how he wrote one of his songs while deployed in Sudan while in the Navy. "I Won't Leave You Behind " was a lovely ballad that got the crowd swaying.
Brendan Dean is originally from Virginia, and has been all around the world. He began playing guitar after his brother taught him the baby steps of the instrument. He started writing poetry and self- reflective writing when he was a teenager and began writing his own songs soon after. He began his music career in Buffalo, N.Y., under the stage name "Rodger the Rover!" before moving to California, back to Virginia and eventually to Florida.
His EP, "I'll try my very best" is available on most major platforms and he is working on another album now. He tested a song from the album for the crowd, requesting everyone to sing along. The sound of everyone singing and the close quarters was a unique and memorable experience. Brendan said plans to use the new song as his opener in his next album.