Junior Class begins fund-raiser Fridays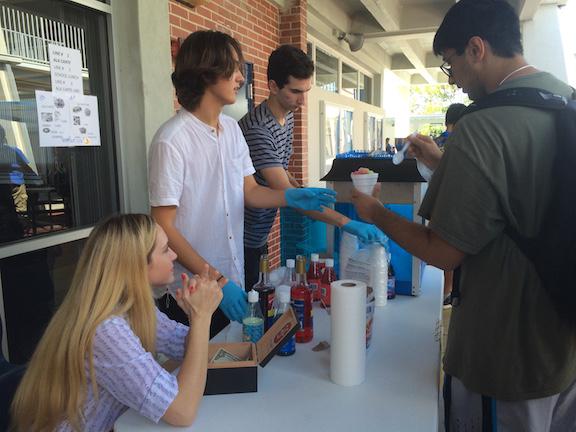 After a long school week, everyone deserves a treat. Walk in the patio on a Friday afternoon, and the junior class can provide you with the refreshing cure for your sweet tooth: a snow cone.
If you stop by the junior class booth on Friday afternoons, you can purchase a snow cone for $1.
"Seeing people stop by, especially juniors really gets me pumped for Prom," junior class secretary Joanae Lawrence said. "Our class is starting to become involved, which is exciting. Every little bit helps, and we're trying to raise as much money as possible."
Each week, the profits range from $70 to $100. All of the sales prices will go to Prom funds.
"With how sales are going, we will definitely be in good shape for Prom," junior class Vice President Molly Redito said. "We [us officers] want to continue to keep making as much money as possible to be safe."
Students in the junior class can volunteer at the booth for hours or turn in supplies for snow cones for their parents to get volunteer hours.
"The more people who donate and buy snow cones correlates directly to how good prom is going to be," Junior Class President Gianni Valenti said. "We have a pretty good amount of people volunteering, and most of our customers are juniors so I would say our class is getting involved."