Inlet bridge project could impact fishing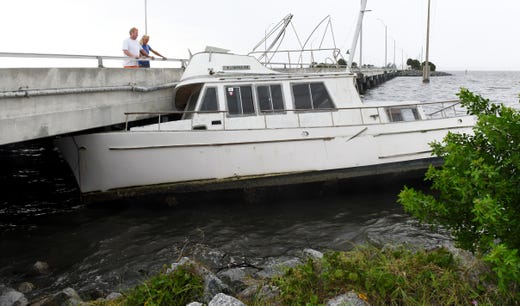 A recent inspection of the Sebastian Inlet bridge has determined it to be structurally deficient and in need of replacement within the next six years.
After Hurricane Dorian, a routine visual inspection of the James H. Pruitt Memorial Bridge, which crosses the inlet between Brevard and Indian River counties, prompted the state to take action, according to Florida Department of Transportation District 4 spokesman Guillermo Canedo.
The projects could make a big impact on the local economy and fishing.
"With the bridge being down for repairs and not being able to go between sides," Nic Coster (9) said. "You won't be able to go on the mini-piers under the bridge where you can usually catch snook, redfish, jack crevalle, flounder and grouper. The fish won't be around the inlet as much because they will be pushing more towards the inlets down south because of the disruptive construction."
Design work could start as soon as 2021, which means the bridge might be fully repaired by 2025. But what effect will the construction of the bridge have on the economy?
The economy of Florida is primarily based on tourism which makes Florida one of the most prominent fishing destinations in the world. People from all over the globe come to Florida to fish all types of waters including freshwater, saltwater and brackish water ,which is a mixture of both. According to the Florida Department of Tourism, the inlet brings in around 900,000 visitors each year along with $93.2 million in annual revenue.
"The income will decrease greatly as a result of less people visiting," Faith Collins (9) said. "I think jobs may possibly decrease because not as many people will be able cross over until the construction stops."
Coster expressed concern regarding the longterm impact of the project.
"The construction of the bridge will forever change the ecosystem and the fishery from the inlet piers," he said. "The boaters will have to watch for old debris in the future from the construction of the bridge."
By Josh Dexter