Sarah Tanke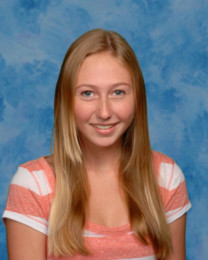 Who: Sarah Tanke
Nominated by: French teacher Jennifer Walker
Why:  "Sarah Tanke received the all-expense-paid, study-abroad scholarship offered by the French Government  at the French 'Congrès' State Competition on March 8, 2013.  She will spend two weeks studying French language and culture in the city of Perpignan, on the Mediterranean, in the south of France.  She will take language classes in the morning, and go on cultural excursions in the afternoon and on weekends.  This was the top award offered at the State French Competition!
"In addition to her study-abroad scholarship to Perpignan, Sarah also received the highest award possible for the <<Album>>, or French Cultural Yearbook/Scrapbook, at the 'Congrès' French Competition.  She received a perfect score of 10, a <<Supérieur>> rank, and a very rare and prestigious <<Prix du Jury>> (Judges' Award of Distinction).
"Finally, Sarah Tanke also received the highest rank of <<Supérieur>> for her Advanced Placement French level competition called <<Déclamation COA>>.  Sarah performed a French Poetry Recital of a Surrealist poem, called <<La Rose et le Réséda>> by Louis Aragon.  Her performance was especially significant because she competed in an AP level event as a French IV student and still scored the highest level possible and a score of 9.5 out of 10!
"For winning the study-abroad scholarship, for receiving the highest rank of <<Supérieur>> in both of her individual events, and for receiving the prestigious <<Prix du Jury>>, Sarah Tanke is nominated for her outstanding performance at the State French Congrès Competition."