Uncharted waters
New swim coach fills precarious vacancy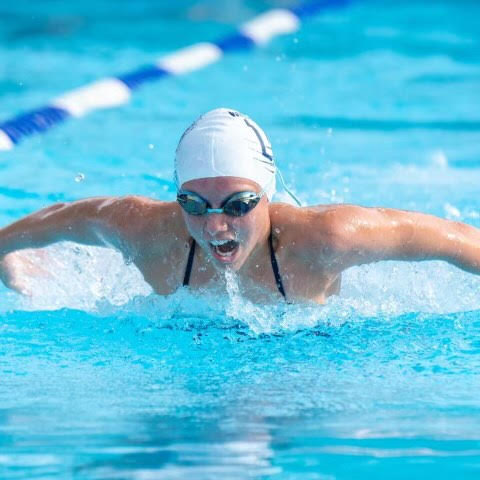 Nicole Riopelle and the rest of the swim team were exhausted when they were gathered to listen to their new head coach after competing in a meet. The coach began pointing out to the swimmers to remember to cheer for their teammates, but for Riopelle, the advice she received only gave her a sense of relief. 
The swim and dive team was left facing an uncertain 2021 season after head coach Kyle Berry left the team following last year's season. A new coach joined the team this season, following Berry's departure. Coach Jamie Wyatt said she decided to take up a position as head coach for the men's and women's teams as soon as she was presented with the opportunity.
"I jumped at the chance," Wyatt said. "I know a lot of the West Shore swimmers through coaching with their club team, so being able to help them continue their swim journey during the high school season is a great honor."
Wyatt, who also coaches the Rockets club swim team in Palm Bay, said she is no novice when it comes to coaching high school swim in Florida.
"I'm the former coach for Calvary Chapel Academy," Wyatt said. "I coached there for the past eight years. I grew the team from 12 swimmers to 32 swimmers, and our team averaged 15 league champion titles each season. Prior to coaching Calvary Chapel Academy, I was also an assistant swim coach at Space Coast Jr./Sr. High School."
Wyatt said she plans to bring a strong sense of encouragement to West Shore's swimmers during this year's season.
"My goal is to help each swimmer reach the goals they set for the season and to reach their greatest potential," Wyatt said, "and for each swimmer, those goals are different. For some it might be to win their first race. For others, it may be to go farther in the postseason."
Wyatt said that, while she feels she has big shoes to fill as Berry's successor, they have similar philosophies about the swim team.
"The former Coach, Kyle Berry, is a great coach," she said. "He's a friend and he was actually one of my daughter's year-round coaches. He and I spoke at length before I accepted the job, and we've spoken throughout the season. He and I are very much alike in our coaching styles and how we want the team to function."
Junior Jackson Ehlers, who swims for the men's team, said he believes Wyatt's coaching style is not similar to Berry's
"Mr. Berry, our old coach, was very positive and talkative, while coach Jamie is more serious and competitive," Ehlers said, "but she is very hard working and she pushes us as swimmers."
Wyatt described her own coaching style as "strong, yet caring".
"I expect a lot from the team," she said, " but in return I give them everything I have. I push them to be better athletes, and they push me to be a better coach. It's a great relationship."
Freshman Nicole Riopelle, who swims for the women's team, said she has adjusted well to Wyatt's coaching style.
"In the beginning I can't say I disliked anything [about her coaching style], I was just a little confused," Riopelle said. "Now that I've warmed up to her style the workouts are great and I feel good leaving the pool."
Ehlers said he thinks Wyatt could go easier on her swimmers as a coach.
"I think we could do slightly less drills during our practices, but she's still a great coach," Ehlers said. "She's the one that has years of experience. She's been a club swimming coach for six years, so she's still one of the best coaches we could have."
Riopelle said that she thinks the team as a whole has become adjusted to Wyatt's overall presence at the pool.
"It was  a little hard for some of us at first because some of us really miss [Coach] Kyle," she said, "but now that everyone's gotten to know her, we like her a lot."
Wyatt said she doesn't fault the swimmers for any shock they felt when she joined the team.
"I think when someone new comes on board sometimes people are worried about the change," Wyatt said. "There's always a transition time to get used to the new way, and I believe our team has weathered that change well."
Wyatt said she's gotten help from the team's two other coaches with assimilating into West Shore's team.
"Both Coach [Rebecca] Matoska and Coach [Robert] Klaasen have been very welcoming to me," she said. "The three of us work great together, and I really enjoy coaching with both of them. They've helped me a great deal throughout the season, not just with coaching the swimmers, but also with learning the West Shore way of doing things."
Riopelle said that she believes Wyatt will bring success as the team's head coach.
"I think she's gonna help our team get some wins, drop time, and probably send some of us to states" she said.
Ehlers said he agrees.
"I think that this year the team has  a chance to make states in relays for the boys' and girls' team," Ehlers said. "Coach Jamie is training the relays and pushing us to drop time on our part of the relay, so we can hopefully make states this year."
Together the men's and women's team have won the first five out of eight meets in which they have competed. Wyatt said she believes West Shore's swimmers will perform well as the season continues. 
"We have a lot of wonderful, experienced athletes on the team this year," she said. "We also have about a dozen brand new swimmers who have never competed on a swim team before. Those new swimmers are learning so much this season and will continue to grow to be our athletes of tomorrow. The swimmers are a great group of student-athletes. I believe the team will have a wonderful season."