Tenali, Smithe make Academic All-State team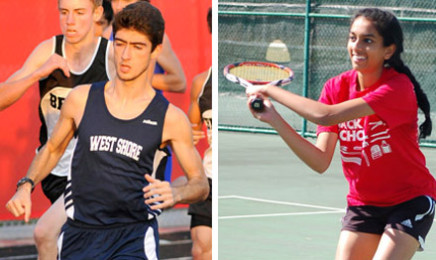 Each year, only 24 Floridian high school athletes are named to the FHSAA Academic All-State Team.  In the history of this prestigious award, no school had ever had more than one athlete selected to receive this honor in the same year, and this year the Wildcat nation has two.
Senior Aalekhya Tenali, a volleyball and tennis player,  and senior Jacob Smithe, a cross-country and track runner, both made the cut.
Each year more than 240 athletes from 685 FHSAA schools apply for the award. To be eligible for the honor, candidates must be graduating seniors, have at least a 3.5 grade-point average, and must have earned a letter for more than one sport in both their junior and senior years.
"I was extremely honored to be chosen by [Athletic Director Kimberly] Shepard and [Principal Rick] Fleming to represent West Shore because there are a number of extremely qualified people at this school," Tenali said.  "Going in, I didn't know much about this, but having been selected I am very humble about the whole experience. It was an unexpected surprise."
During her tenure at West Shore, Tenali has maintained 4.0 grade-point average and earned letters for both of her sports for the past four years.  To add onto her accomplishments academically and athletically, she also served on Student Government and other assorted clubs.  She has also accumulated 250 hours of community service.  At this point, Tenali has yet to decide which college she wants to attend.
Smithe, who is an Advanced Placement Scholar and a National Merit Commended Scholar, has a 4.0 GPA and has earned four cross-country letters and three letters for track. He also accumulated more than 100 hours of community service.
Being selected was an unexpected surprise said Smithe.
"Honestly, I was pretty surprised that I was nominated for the award to begin with, and then when I won it I was just amazed," he said. "It was also a pretty unique experience to just have someone tell me that I suddenly had another $1,000 to put towards my education, but I was mostly just surprised."
Like Tenali, Smithe expressed he was honored to be chosen among all the other students who attend West Shore.
"It definitely means a great deal to me to be chosen for this award since even just West Shore itself has plenty of great student-athletes, not mentioning the rest of Florida," he said. "Along with the honor, the money is helpful as well. As most any senior could attest to, getting into college is absolutely thrilling, but the heart is also prone to beating a bit faster as you and your parents start figuring out just how to pay for the education of your dreams now that you have the opportunity."
Smithe plans to attend the University of Chicago as a pre-med and biology student.