Space Coast Crew No. 1 in Brevard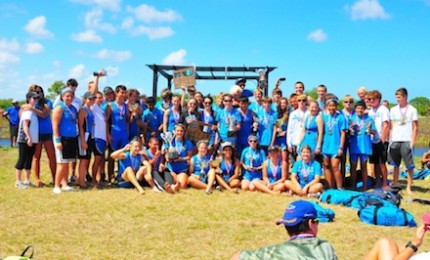 Space Coast Crew competed in the Brevard County Championships on Saturday and won first place for overall points. The race was at Canal 54, where the team competed against Mel High Crew and Sebastian River High School. Senior Vianca Rivera described the team during the regatta.
"At the beginning of the day we were all so pumped," senior Vianca Rivera said. "Everyone wanted to win more than any other race."
That's because this regatta determined the No. 1 team in Brevard County. Space Coast placed first in 12 of 15 events compared to last year when it placed first in three events. Women's team captain Olivia Humphrey attributed the improvement to several factors.
"We had a change in our coaching staff and I think the team kind of got more dedicated to the sport," the junior said. "After having such a rough time last year, we knew what we wanted this year. There was more of a passion I guess."
After the races, the team celebrated by eating ice cream out of the trophies they won.
"I'm not sure who started the tradition, but the first time I got to eat ice cream out of the trophies was my sophomore year when we won overall team points," Rivera said.
Despite a rigorous and often painful practice regimen resulting in myriad aches and blisters, Rivera said she loves her sport.
"I'm a very competitive person and what gets me through the tough practices and makes me push myself harder," she said. "I want that feeling of proving to myself and everyone around me that I can do something amazing."
Humphrey said the team will not set its sights on the state regatta, scheduled for the weekend of April 27.
"I am looking forward to seeing how much we've progressed from how we did at states last year," she said. "I feel like we have gotten a lot stronger this year both mentally and physically. I think those two factors will help us get to grand finals."
By Evy Guerra