Rezoning brings changes to swim program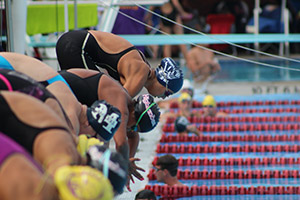 With the Florida High School Athletic Association finalizing its rezoning for the 2019-20 swimming and diving state series, swimmers note a change in competition for the upcoming season.
Coach Kyle Berry said the rezoning will affect the team in myriad ways.
"We're going to going to be competing in 1A again," Berry said. "The only setback I can see is the fact we have to swim Lake Highland at districts, as opposed to the regional level. We're also not going to have to race Trinity Prep or Montverde at regionals, so our swimmers will have a better shot for states. But we will have to race them at the state meet."
Junior Riley Wilkins said the redistricting will benefit him and the team.
"I don't have to race Luke Uttley at regionals," Wilkins said. "That guy won both the 100 and 200 freestyle at states last year, so it is nice not having to race an absolute deity. Also with Trinity Prep and Montverde gone, there is a good chance of our relays qualifying for states."
On the other hand, sophomore Katelyn Owl said the redistricting will pose a challenge for the girls.
"Lake Highland sweeps regionals," Owl said. "We're going to have to defend our district champion title. The girls at Lake Highland are insanely fast too, and we are down two seniors from our relay this year. Hopefully we get some good swimmers next season to rebuild the relay."
The swim team will begin its practices July 29.
By Ben Castillo