Lady Wildcats pound Bulldogs on senior night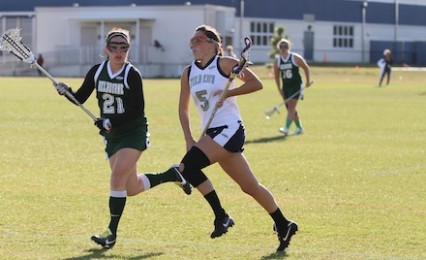 Leading scorer, junior Christine Sherry was a late scratch due to illness, but the Lady Wildcats rallied behind sophomore Kaitlin Inganna, who scored three goals, and managed to hold off the Melbourne Lady Bulldogs 9-5.
Juniors Lindsay Gorham and Sierra Purden also added a goal each, and the Lady Wildcats overcame a slow start and an early deficit on their senior night.
The Lady Wildcats started their six graduating seniors, and waited until late in the first half to substitute in the usual starting lineup.
"A good handful of our seniors are new to starting," Purden said. "Also, the game started at 5:30, which is a little earlier than we are used to. Along with Daylight Savings Time starting, the extra sunlight was just different."
Added sunlight, inexperience, and the absence of the team's leading scorer allowed the Bulldogs, who are in their inaugural year of lacrosse, to take an early lead, but the Lady Wildcats came back, improving to 7-1 on the season.
"I'm looking forward to the rest of season," Senior Alex Hamaker said. "We're a strong team and I think we can do great things."
Half-time ceremonies including the introduction of the six seniors: Taylor Bartusek, Jackie Sherry, Alex Hamaker, Moriah Douglas, Diane Olski, and Alyssa Johnson.
The Lady Wildcats travel to Cocoa Beach Thursday night, however the 6 p.m. game won't be officially recorded, as the Minutemen only field a junior varsity team.