Hoops center eyes pharmacy career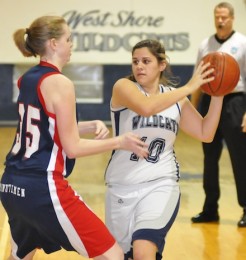 With more than 250 points this season and 200 rebounds, junior Victoria D'Esposito ended the Lady Wildcats basketball season strong.
"You could call it my passion," D'Esposito said.
Victoria started basketball when she was in kindergarten. Standing at 5 feet 8 inches, she is one of the tallest members of the basketball team so she plays center or occasionally forward or guard. Her father, Dave D'Esposito, coaches the Lady Wildcats.
"Having my dad as coach is cool sometimes and I like it, but it has disadvantages," she said. "Whether people realize it or not, you do get yelled at more and more is expected out of you. If you play a bad game, you don't just hear about it in the team huddle after the game but you also have to listen to it when you get home."
Victoria describes the relationship between her teammates as good friends. They eat dinner together before games, have team bonding, and celebrate each other's birthdays.
"We're all pretty much friends, even if I yell at one of them in a game, we all know it's out of frustration so we don't let it make us hate each other or anything," she said.
D'Esposito plans to pursue  pharmacy school in college, but it's unlikely she'll play basketball.
"I don't really know exactly what I want to do, so I'm just following what my sister's doing for now and chemistry is one of my favorite subjects. College basketball is really time consuming and a lot tougher than high school so it'd be too hard," she said.
By Lindsay Gorham