Heinricher, Wong fall in tennis state semifinal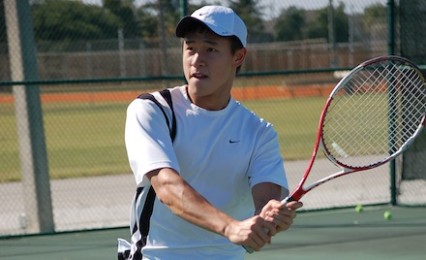 Senior Chris Wong and junior Erich Heinricher lost 7-6, 6-4, to Andrew Dykeman and Ross Weisman of St. Andrews in the tennis doubles state semifinals Tuesday, bringing a close to their school-record run to the final four.
The week started on a positive note as the duo defeated Jupiter Christian's James Massie and Andrew Massie  6-4, 6-3 Monday morning and later in the day beat Father Lopez's Will Greaves and Mike Munier 6-2, 6-2.
"We beat the team that beat us in finals, so it was like revenge," Heinricher said.
Wong was skeptical about his team's chances for success entering the tournament.
"When I went into state, I expected to get out the first round, but I saw the draw and I was confident we'd do well," he said. "They seemed better at first, but eventually we just crushed them."
While Tuesday's match didn't end as Wong had hoped, he was pleased with the way he and Heinricher performed.
"When semifinals came around, I knew the kids were good and I had seen them play the past day or so, but we did really well. The score was really close. It could've gone either way," he said. "We did a lot better than we expected we'd do. It was a really good way to end my last season of high school tennis."