Heinricher, Wong carry Cats through districts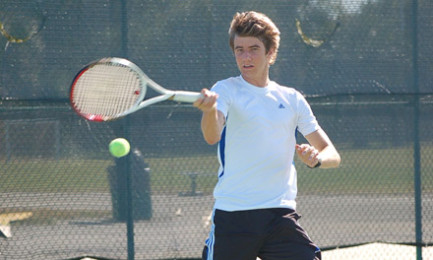 Junior Erich Heinricher defeated Holy Trinity's Matt Allison 6-0, 6-2 to lead West Shore to a third-place finish in the Class 1A District 11 boys' tennis tournament Tuesday. Overall, Holy Trinity finished first with 18 points followed by Merritt Island with 17 points and West Shore with 16.
"The competition was less than stellar," Heinricher said. "It was great to come out, get an early lead, and never really be challenged."
Heinricher also teamed with senior Chris Wong to defeat Holy Trinity's Chris Suchoski and Allison for first place in doubles competition. The first place finish will allow the boys to advance to State competition. During the tournament's first round on Monday, Wong fell to St. Edward's Josh Kane 6-0, 6-3 and Heinricher defeated St. Edward's Sean Carrick 6-3, 6-3. In addition, Merritt Island Christian's Trey Sowards shut out freshman Joel Boysen 6-0, 6-0.
"It's really cool for Chris to finally get a blue ribbon at districts," Heinricher said of his partner. "He's got a ton of second place finishes, I'm glad I could help him prolong his senior season with a big victory."
The girls' team finished a distant second in the tournament with 8 points overall. St. Edward's finished first with 21 points. During Tuesday's play, sophomore Erna Roth fell to St. Edward's Alisa Klinsport 6-2, 6-3 and freshman Katherine Avrakotos lost to St. Edward's Rachel Smith 6-1, 6-1. In doubles play, St. Edward's Lola Fadulu and Klinsport topped Morency and Roth 6-3, 6-2.
On Monday, sophomore Roth knocked off Edgewood's Erica Neilson 6-2, 6-4 while Sara Swift of St. Edward's defeated senior Aalekhya Tenali 6-1, 6-1 and Holy Trinity's Megan Bernier topped senior Michelle Morency 6-2, 6-1.
Roar staff report