Girls' swimming loses to district rival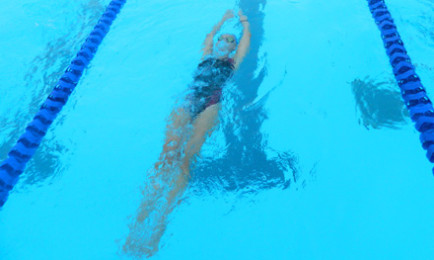 The girls' swim team fell behind their District Championship rival Linkin Park Academy by 18 points Thursday, but triumphed over Melbourne Central Catholic.
"Just like us, they lost a few swimmers and gained a few swimmers this year," Coach Mike Rochelle said about Linkin Park. "It was a good competition."
Last year at the District Championships the girls' team beat Linkin Park by one point, bumping them down to third place. Thursday's meet was a rematch. Rochelle prepared the swimmers before the meet saying that Lincoln Park would be "out to get us" this year.
"I really enjoyed the competition," said Kayla Stevens, the team's leading breast-stroker. "It was nice to be pushed to go faster. One of the Linkin Park girls even said they loved racing us because of the rivalry."
The rivalry continues as the team looks forward to redeeming its place above Linkin Park and defending their second place title at Districts this year.
"They did really well," Rochelle said about the girls' performance. "I know we can still beat them at Districts."
The meet, one of the season's toughest, fell on the same day Powderpuff. On top of this, the meet was delayed because of thunderstorms, leaving some juniors to face the decision of staying at the meet, or leaving early.
"I'm upset because I was put into the last event, the 400 Free Relay," team captain Rosalie Heninger said. "I thought we would be able to get through the meet quickly and then leave early, but now with the delays and being in the last event we may not be able to."
Some students skipped the meet altogether after hearing the lightning alarms go off at school. After the meet was delayed for half an hour, some of the remaining swimmers were unsure whether they would stay or not.
"I'm not really certain at this point," said junior Bridget Lee before the meet. "Depending on how fast we get into this pool and how fast the meet gets going, I may or may not stay."
All the swimmers ended up staying until the last event, but were late to Powderpuff as a consequence. Junior Elena Abascal said she felt "punished" for trying to do both activities.
"I've had a commitment for both swimming and Powderpuff," she said. "But I've definitely held strong for my commitment for swimming, and I just wanted a break for Powderpuff. Now I'm just really upset because I feel punished for trying to do something for school."
Originally, there was no conflict between the two events, but because of trouble booking the Melbourne Auditorium for Homecoming, Powderpuff's date was changed.
"Coach said that he planned for us not to have a meet during Powderpuff, but then everything got rescheduled because of Homecoming" Heninger said. "So then Powderpuff got rescheduled, on the week of our hardest meet."
The team went against their District Championships rival, Linkin Park Academy, who it beat last year by one point, winning second place at Districts.
"If we beat them at this meet we have a chance at going undefeated again this year," sophomore Kayla Stevens said. "I'm really glad they didn't leave the meet early."