Girls' lacrosse wraps up successful season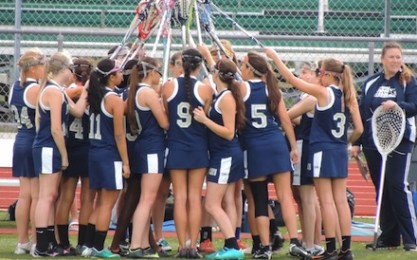 Despite a late rally attempt, the Lady Wildcats were unable to overcome a second half onslaught from the Satellite Scorpions, who beat the 'Cats 12-7 April 18 to claim the lacrosse district title.
The loss ended the Lady Wildcats' season at 16-3, but while the ending was bittersweet, leading scorer junior Christine Sherry is among those who believe the team reached and exceeded its initial goals for the season, and that there is room to grow for the future.
"We definitely played together as a team this year and worked especially hard to get as far as we did," Sherry said. "I think that we'll do well next year because we learned to work and play better together."
The season was highlighted by an upset victory in overtime over the Scorpions during regular season play on Feb 22 and a sudden-death victory over the Merritt Island Mustangs in the district semifinals on April 16.
Junior Lindsay Gorham scored the winning goal against the Mustangs, and remembers the moment among the best moments of the season.
"I was in the right place at the right time," Gorham said. "It wasn't just about my goal. It was about the effort that we put in, and the team's motivation. We wanted our season to keep going."
In the 2012 season, the Lady Wildcats were eliminated in the district semifinal round, losing to the Viera Hawks.
"It meant a lot that we were able to get further this year than last year and that we exceeded expectations," Gorham said. "Last year we were 4-4, and that kind of improvement shows how much dedication we've had this season."
The Wildcats also twice were able to avenge their loss to the Hawks, beating them 15-3 and 9-8 on March 8 and April 8, respectively.
"We learned so much this season," junior Sierra Purden said. "I think, with all the work and time we're willing to put in, that improvement will definitely happen, it's inevitable."