Girls' lacrosse stays perfect, stomps Hustlers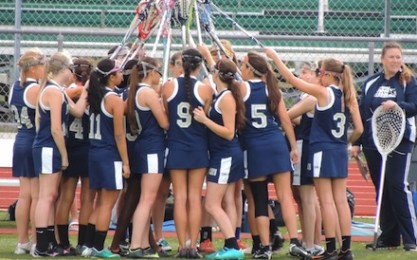 Within six seconds of the opening draw, Christine Sherry added to her torrent run, tossing in a goal and giving the Lady Wildcats an early 1-0 lead over the Central Catholic Hustlers, a lead they would never concede, winning 16-6.
Sherry has scored more than one goal in every game this season, and has carried the Lady Wildcats to a 4-0 start and the top spot in the district standings.
While the box score will show a drubbing, the Lady Wildcats will look to improve on their few evident faults, namely with the defense and lack of experience. As the game went on, a few Lady Wildcats who generally play in the midfield were forced to drop back to defense in order to allow some players to rest.
"We didn't have our best defensive line in," Junior Lindsay Gorham, one of the misplaced midfielders, said. "The younger players got a chance to play, which is good, but we really shouldn't allow six goals to a team like MCC, we're better than that."
The Lady Wildcats recognize that increased effort will be needed in order to maintain this high level of play, especially as the season wears on.
"We going to need to play better if we're gonna win later in the year, like in our rematch against Satellite," Sophomore Amanda Moscrip said. "I know for a fact that we can, but we're going to have to."
The Lady Wildcats return to action Friday night when they host the Eau Gallie Commodores at 6 p.m.