Foster's 17 leads girls to district championship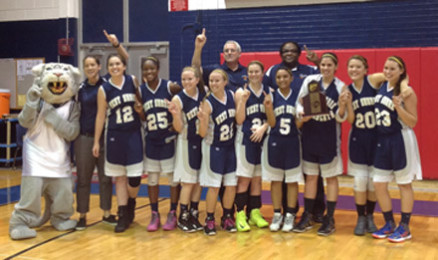 Freshman Gillian Foster scored 17 points and pulled down 12 rebounds to lead the Lady Wildcats past Cocoa Beach 36-32 in the Class 4A District 8 championship game Saturday night. Senior captain Victoria D'Esposito added 7 points. The Lady Wildcats improved their record to 23-4 overall and 9-3 in the district.
On Friday, D'Esposito led the Lady Wildcats with 17 points in a 41-37 victory over Titusville Astronaut  and Cocoa Beach defeated Space Coast 57-25 to set up the title matchup.
The Lady Wildcats have advanced to regional play only once before in the team's history.
"It'd be the icing on the cake to our season," D'Esposito said before Friday's game. " I personally would really like to make it out of districts, and I know we can. We can be district champions."
The district final game that will take place at the Cocoa Beach Minutemen gymnasium, with tip-off at 7 p.m.
"We're going to have to prepare for them to start full-c0urt pressing," junior forward Nora McSorely said. "We really need to shake our third-quarter struggles, and come out of halftime at our best."
Friday's semifinal victory follows a 58-24 drubbing of the Edgewood Indians Wednesday night.