Forry nominated for national award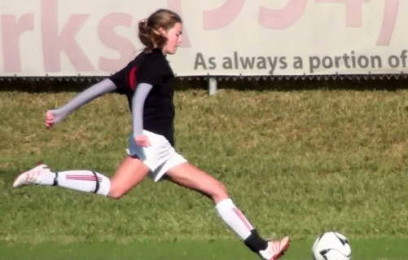 Soccer star Kaitlyn Forry recently received national recognition by winning the Senior Excellence Award and is now in the running for national recognition. According to Chuck Keener, coach of the girls' varsity soccer team, Forry received this nomination for exhibiting a combination of athleticism, academic prowess, leadership and service.
"Kat is now under consideration for the National All-American Scholar Award," Keener said. "Only 30 to 35 kids get selected. It is a very exclusive thing, and just being nominated is very exciting."
Forry, who has played soccer since she was 4 years old, is now captain of the school team for the second consecutive year. She currently leads the entire district with 26 goals and nine assists.
"Kat is the symbol of what high school girls' soccer is all about: competiveness, determination and resilience," said Tony De La Hoz, coach of the girls' varsity soccer team. "She plays from the heart."
Allie Goff, coach of the U17 Space Coast United club team echoes these sentiments.
"Kat is a tremendous athlete who possesses great speed, agility, composure and technical skills," Goff said. "She is one of the most coachable players out there with a great attitude and work rate."
While Forry has verbally committed to signing with the University of North Florida on a soccer scholarship, she says she is considering attending the University of Florida to pursue a better education in medicine. For now, she is currently focused on having a successful season and qualifying for the regional level of competition.
"Kaitlyn is not only a superb athlete but also a tremendous student," Principal Rick Fleming said. "My advice to her is to pursue academic interests first. If collegiate soccer is in the cards for her, then no doubt she will excel and do both."
Ironically, when Forry's father initially exposed her to soccer, she hated the experience. It was only after he insisted that she try one more season of soccer that she found her love for the sport that would grow to be her passion.
"If it weren't for him, I wouldn't be here today," Forry said. "My family has always supported me and has come to every one of my games. I'm very thankful for that and hope that I made them proud."