Dance Dreams
When Danni Gelin was 5 years old, she competed on a dance team that placed first in a national championship. That achievement sealed her passion for the art and sport of dance, and set in motion her plans for her future.
"In 2018, I joined the Senior Elite team, a program for girls who intend to dance at a collegiate level," Gelin said. "It's kind of like how West Shore is a college education prep school, except this is for dance." 
During that same year, Gelin and her team competed against other groups from as far away as Asia and Australia at a competition called Worlds.
"We placed second in the competition overall, only two points behind Japan," Gelin said. "It was insane and so upsetting because we were so close. But then, in 2019, our Senior Jazz Smalls team won. This time we placed first — we were world champions. I will never be able to describe the feeling of when our name was called on stage. I bawled my eyes out. It was truly surreal. We got a big medal, a shiny ring, a huge banner and bragging rights for life."
Gelin said this win confirmed her ambition to continue dancing in college.
"In college there are only four technical dancing categories: jazz, pom, hip-hop and game day," Gelin said. "Like other things, every dance category has its top dogs. For instance, the University of Las Vegas and Louisiana State are top for hip-hop, and the University of Tennessee is top for Pom and Jazz. I personally hope to continue dancing pom or jazz." 
Every year, the Universal Dance Association hosts competitions, called combines, that provide dance teams with the opportunity to meet private coaches one-on-one. Additionally, the combine provides an opportunity for high school sophomores, juniors and seniors to prepare for dance at the collegiate level. 
"At the combine you'll learn dances, you'll learn etiquette, and you'll learn how to try out, like mock auditions," Gelin said. "More importantly, college coaches get to watch you. Sometimes they'll give you feedback and other times they'll call you out during certain combinations you learn. Usually that's a good thing and it means they're interested in you."
On Nov.18, the NCAA released a statement saying it was suspending any in-person recruiting for D1 sports until April 15. This affected events such as the UDA combine as coaches would only be able to see dancers through a screen.
Sophomore Rebecca Benezra, who has danced with Danni for nine years, said the switch to virtual will be interesting but will not affect Danni's chances of being seen by college coaches.
"UDA being online is very different this year from how it's been in the past," Benezra said. "Dancers now have to video themselves doing their trips in a row, which is super-hard. I know this won't affect Danni, though. She'll still do amazing because that's just who she is. She can do things and do them incredibly. She will definitely still get the same amount of attention she'd get if coaches were watching her in-person."
With the pandemic shutting down UDA's events, Gelin said she's glad to have had several opportunities to go in the past.
"I definitely believe that attending college combines allowed me to get recognition by college coaches," Gelin said. "I currently have a couple of schools that have reached out to me for dance. Of those, I have a solid top three that I am interested in. I am just waiting on one more to give me an answer."
Gelin's mom, Marie Gelin, said she's proud of Danni's commitment to dance and is excited for her to continue in college. 
"Once we joined her current dance studio, I could see how interested in dance she was," she said. "She would constantly come home after they learned their routines and practice in the foyer, over and over and over. Then she'd repeat her practicing the next morning when she woke up. She'd go until she literally had it drilled in her. I felt like she was just never tired. I'm happy for her to continue dancing in college. I know that's what she really wants to do. Dancing is just a part of her. It's who she is and I'm fully supportive of her."
About the Contributor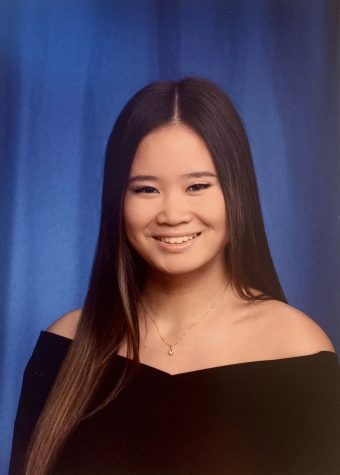 Keira Coleman, Staff Writer
I am super excited to be a part of staff for my senior year.

When I'm not writing, you can find me in the kitchen cooking ramen.