Boys shock Bulldogs, spoil senior night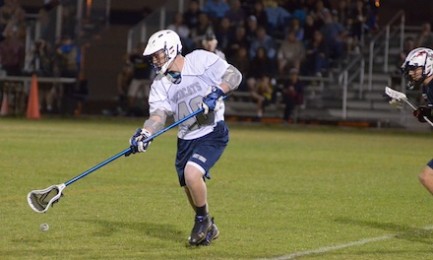 Behind a game winning overtime goal from freshman Austin Altevogt, the Wildcats Boys' Lacrosse team rallied back from a 5-2 deficit to knock off the Melbourne Bulldogs 6-5, on the Bulldogs' senior night.
"I knew I had to pull through for us," Altevogt said. "To end the game that way, our whole team went crazy."
After the Wildcats fell behind at the half, eight grader Tom S., sophomore Jake Sadowski and junior Ian Chan punched in late goals and forced the game into overtime. In overtime, immediately after face-off, sophomore John Nevins picked up the ball, passed it to Altevogt who finished the play, the game, and the Wildcats' season with a victory.

"I was so stoked when that ball found the back of the net," Tom S. said. "For us to beat a big school, especially coming from behind, it quieted them down a lot, and it meant a ton to us."
The victory came on Melbourne's senior night, and playing spoiler was a thrill for junior goalie Jack Moore.
"They were yelling at me through the fence, and some players sitting near my parents said some obscene things," Moore said. "To beat them, especially a rival, felt so good.
While the Wildcats have no seniors on the roster, the younger players see the value in a season-defining win.
"It shows we have so much potential for the future," Altevogt said. "We can beat the biggest teams in our district. We can beat anybody."